If the Old Framlinghamian Rifle Club was a Premiership Football Club the captain, John "I'm an IT wizard you know" Halahan would by now have received the dreaded 'vote of confidence' from the Board.

Great marksman he may be, but as we all know the best strikers don't necessarily make the best managers and there were mutterings of discontent among the rank and file of the OFRC.

See, after three years of crushing all opposition before us we now find ourselves in 2009 played two, won none, lost two.
Being Brits, and public school educated ones at that, we naturally maintain the stiffest of upper lips, suppressing an involuntary wobble of bottom lip with determination and grit.

Loser
Nonetheless, as legendary poker player Stu Ungar said: "Show me a good loser and I'll show you a loser."

It is therefore necessary to find a scapegoat for the collective ineptitude which saw us hand over our beloved long-range trophy not to the Auld Enemy, the Old Lawrentians, but to an entirely new foe – the old boys of Kings College, Wimbledon.

It matters not that our shooting day was interrupted by the wants and demands of the GB Palma Squad (the Palma is the shooting equivalent of the World Cup) which contains among its number one Sandy Walker, OF, known to his erstwhile team-mates as the Gangling Metronome.

What Palma wants Palma gets and we were forced to truncate our 900 yard shoot to seven rounds to count, thus requiring us to fire 15 at 1000 yards. This column has recounted before that while it is only 100 yards difference it is also more than half a mile and without sufficient practice 1000 yards can turn strong men into quivering wrecks with a single twitch of a wind flag.

Incompetence
Incompetence in extreme measure was on show with 'Zero' McDowell talking a good game at 900 with 33.3 and then shooting his mouth off with a pathetic 64.4 at 1000. He is dropped into the B Team as only he richly deserves and trudges off to sulk as Range officer. Beloved Chairman drops two at 900 and stands firm with a 71 at 1000 whilst Driller Killer Mehta finds a small patch of form to come through with a 101 aggregate from 110.

'Kitboy' Cupper, fresh from another bout of accessorising – surely a rifle would be useful addition to the ever-increasing equipment stash – enjoys a tidy 900 but falls hopelessly apart at the longer range – he too resorts to grumpiness as the best cure for a poor shoot. Robin "Shotgun" Curtis has a decent stab at long range and Brian "HRH" Smith is cutting unusual patterns on the target surface in a bid to spell the word VOOV in his scorebook. Not even the considerable talents of Tom "Queens Final" Chapman as coach (as well as a few extra rounds of ammunition) can keep the revered gent on the, er, straight and narrow.

"Goggles" King, this time using the correct rifle, is wayward and Neil "Body and Doyle" Joy seems to have left his Mojo in the Ford Capri and unable to recapture his previously spectacular form.

Genius
Meanwhile, John "Technical Officer" Halahan's grand plan comes into force. Being an IT genius, he has written a spreadsheet to automate the process of scoring in an attempt to drag the OFRC kicking and screaming into the digital age. Sadly, the gleaming spring day means you can't see the screen for glare and as the data is faithfully entered it is guesswork as the whether it is being entered in the relevant holes.

It also means that our scores cannot be manipulated by the expeditious means of moving out poor performing shooters and substituting them with better ones – this is within the rules – though perhaps not strictly within the spirit of the game.

Bungle
In essence this means that John "Smartypants" Halahan has written his spreadsheet, not in Excel, but in a little-known software programme called "Bungle".
So inept is he that he cannot even cheat properly, thus denying the OFRC the much-coveted long range trophy that has been theirs for three years by a miserly five V-bulls and there it is in all its electronic glory – Fram A, 2nd, KCS, 1st.

There is discombobulation in the ranks as well as a lot of ice cream, it must be said.

The Bungler is unrepentant. "Never mind, lads," he says in a very chipper first day of the Somme kind of way, "There is always the All Day Shoot next month."
Indeed there is – for behind the scenes there is an emergency meeting of the Board and hands are being raised…..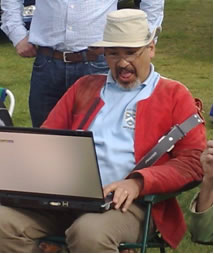 Captain Halahan realises his mistakes too late.
O.F.R.C. Competition Results – 2009
The Long Range Match
| | | | | |
| --- | --- | --- | --- | --- |
| The Teams | 900x | 1000x | Total | |
| | | | | |
| Team A | | | | |
| N Burnip | 33.2 | 70.4 | 103 | 6 |
| T Chapman | 33.3 | 68.4 | 101 | 7 |
| J Mehta | 32.2 | 69.4 | 101 | 6 |
| J Halahan | 32.1 | 46.5 | 78. | 6 |
| | | | | |
| Team B | | | | |
| S McDowell | 33.3 | 64.3 | 97. | 6 |
| J Horton | 32.2 | 48.4 | 80. | 6 |
| N King | 31.0 | 68.4 | 99. | 4 |
| J Cupper | 32.4 | 61.2 | 93. | 6 |
| | | | | |
| Others | | | | |
| A Horton | 39.0 | 40.0 | 69. | 0 |
| R Curtis | 31.1 | 34.0 | 65. | 1 |
| B Smith | 29.0 | 26.2 | 55. | 2 |
| N Joy | 16.0 | 40.0 | 56. | 0 |
| | | | | |
| Match Results | | | | |
| KCS Wimbledon | | | 383. | 30 |
| Old Framlinghamians A | | | 383. | 25 |
| Old Cranleighans | | | 374. | 21 |
| Old Framlinghamians B | | | 369. | 22 |
| Old Lawrentians | | | 352. | 16 |
| Lancing | | | 342. | 8 |
| Old Albanians | | | 330. | 6 |
| Old Alleynians | | | 325. | 8 |