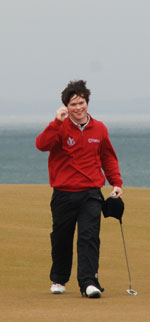 Patrick was tied for the lead going into the final round on Tuesday 6th April, having shot 71 and 68 around the Eden Course the previous day. He quickly accelerated away with birdies on four and five before eagling the par-5, 555-yard 15th courtesy of a four-iron struck to within two feet. And to round off his victory, he got up and down well on the 18th for birdie to complete an emphatic victory.
"This is the biggest university event I've played in by far," said Patrick, who is in his first year as a Foundation Scholar. "I said to the guys on the first tee, "This is going to be so hard" but I think we got the best of the conditions and it all came together for me".
"Opportunities like playing in the Palmer Cup don't come along every day, so I'm really looking forward to it."
No sooner were that celebrations over than Patrick climbed into John Wybar's car for the long drive down to Sandwich to join the OFGS team for the Halford Hewitt competition – but that's a story for another day!