After leaving Fram in 1989, I spent a short time at the University of Wales College of Medicine, Cardiff. Presumably lacking any commitment having got in through clearing, or being 'down in the mouth' from being in the dental school, I left after completing the 1st Year. Two years at Willis Faber in Ipswich rushed past, followed by a move to Scotland to read Accountancy at the University of Dundee. With a degree successfully completed this time, this temporary move stretched out for over 6 years when a role in the Glasgow based accountancy recruitment consultancy Search was accidentally acquired.
After completing a Post-Graduate Certificate in Education at Cambridge University in 1999, I greatly enjoyed 3 years at Halesworth Middle School in Suffolk, teaching mainly maths, science and computing.
At Homerton College in Cambridge I met, and successfully brought to Suffolk, Emma Oxnam of North Devon. Discovering a desire to travel, we visited a school in Uganda and with Emma a couple of years later jointly founded the Suffolk based children's charity Softpower Education with Hannah Small (of Bury St Edmunds and now Jinja, Uganda). Everything about the charity's aims, activities and achievements can be found on the new website at www.softpowereducation.com. We are continually looking for adventurous volunteers or donors.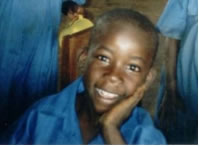 Following a 'rather fortunate' or 'rather foolish' Southwold area house renovation sale (depending on your long-term views!), Emma and I set off on a ferry from Harwich for an extensive period of travel overseas with the excuse of looking at schools around the world. We are, of course, rather more concerned with enjoying ourselves before settling down into teaching jobs (again) back in Suffolk – unless we land any lucrative overseas posts with the BBC or Foreign Office in the meantime! Being permanently surrounded by children, we have no current intentions of adding any of our own!
We have regular contact with several Old Framlinghamian characters, particularly Miles Anstes (83-89) who is doing very well for himself as a chef in Suffolk.
We are now in Iran, and have information of our rough whereabouts on the website www.hms123.com