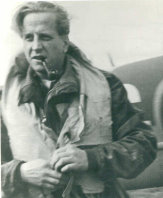 UPDATE :As a result of the article appearing, Brian Rosen contacted France's English-Language Newspaper "The Connexion" and on 27 February 2015 they published this story to tie in with a TV programme that night on French channel RMC.

ORIGINAL ARTICLE : For those of you interested in the amazing exploits of Group Captain Percy Pickard DSO** DFC (G26-32) and in particular the raid on Amiens Jail, might like to read an article written by Bill Collard (S55-58) and published by editor Brian Rosen (S40-46) in the Royal Air Force Association Newsletter – Lyon Branch. You will read that a campaign is underway for Pickard to be posthumously awarded the French Legion d'Honneur and the Croix due Guerre and perhaps one day the VC that was denied him at the time.
You can read the
on pages 29-32 of the full distinguished biography on Pickard's amazing life.