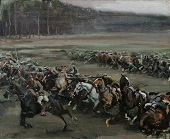 A major exhibition of Sir Alfred Munnings' (1891-92) work, described as "the most important" to date, is set to open in Newmarket.
Munnings was renowned as one of England's greatest painters of horses, as well as horse racing and hunting, and was also a war artist with the Canadian Cavalry Brigade during the First World War and painted distinguished OF Lieutenant Gordon Flowerdew VC (1894-99). .
The exhibition is made up of around 40 paintings, watercolours, and drawings spanning 60 years of the artist's career.
The 'A Life of His Own' exhibition is currently on display in the Osborne Studio Gallery, in London until May 14, but will then make its way to the National Horseracing Museum in Newmarket, from 24 May to 12 June 2022. Click here for  EADT article and pictures.