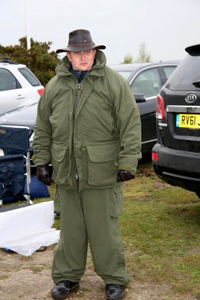 Guy Larcombe, the Wiz of Biz.
Still, the Wizard once appeared on University Challenge reading wind and his starter for ten was to apply the technology of some wired headsets which means the coaches and plotters can hear his calls as he makes them. In pernicious winds it is vital the firer gets the shot away as soon as possible after the sights have been adjusted so it's clearly good news even when James 'Scarecrow' Mehta is in the chair.
Parallel twits
'Scary', famously, is the inventor of the ground-breaking technique known as Parallel Coaching (TM) in which the coach adjusts the shooter's sights according to the fall of the shot on the adjacent target. This of course produces some interesting results as Andrew 'Tinman' Horton once found out with a unique W-shaped group in the top right hand edge of the target frame.
Anyway, back to the bluster. At 900 yards the Wiz draws up his chair, Sellotapes his hat on and begins to lead the process of coaching ten eager firers. Scary opens with a 46, Archie "Munchkin" Gemmill an imperious 48 with six V-bulls and John "Dorothy" Halahan another. 48 seems the score of the day with Geoff "Glinda" Houston making a welcome return alongside Jon "Toto" Ford.
With 900 yards behind them and the stragglers of Horton Jnr and Snr, Neil "Professor Marvel" Joy and Nigel "Auntie Em" King all struggling a tad to find some consistency they trudge back up the Hill. As ever it's only 100 yards more, but what a hundred yards it is. With a wind big enough to rip the sticks out of the Cutty Sark the coaches are clicking away at the sights like a Cicada on methamphetamine.
The targets are in the middle of ten foot wide frames which are about three feet apart and at that range the pinholes on adjacent targets are 17 minutes apart, so it doesn't take a brain surgeon to work out that with winds gusting up to 15 minutes the shooters are, 1) pointing at the adjacent target and, 2) in deep shit.
John Halahan
Grumbling
And so it proved: even the wisdom of the Wiz was tested to breaking point as five scores of 43 and two 38s bracketing consistently low 40s. There's a lot of grumbling notably from Nigel "Lionheart" Burnip who is becoming increasingly aware that despite instituting the Lion Tankard three years ago, has yet to contribute to actually winning it.
Quite what young Seb Treacy, shooting with us from the College, made of it as he prepares for his debut in the Imperial Meeting is anyone's guess. Quite what he made of the thunderous invective from the Chairman is another matter altogether.
Never mind, a hearty lunch in their bellies and the ruby slippers buffed to perfection, the shooters gathered to do battle at short range.
Two things you need to do when you go directly from 1000 yards to 300. One, make sure you have returned your sights to a 300-yard zero otherwise the Saturday shoppers of Camberley could well be in danger of finding themselves with an orifice Mother Nature did not design. And, two, come to the swift realisation that even though it looks so close 300 yard targets are very small and therefore it is very easy to come to grief (and more swearing from the Chairman).
Those headsets have really done the biz, says Dorothy to the Wiz, "Are they for us?"
"Certainly" says the great man twiddling knobs like a maniac with a nervous tic, "£1,200 and they're all yours. I borrowed them."
Thwarted skipper
A word of warning then to the Society of Old Framlinghamians Grants Committee – the skipper hates to be thwarted.
So then, 300 yards as ever separates the men from the bumbling twits and Lionheart accesses hitherto unheard of parts of Burnip's Lexicon of Profanity (Hodder & Stoughton £12.99). Trudging off the range with a 44 in the book the others mix it up.
He is not chuffed, especially since the new villains of the piece, the Bedfordians, have among their ranks the great two-time GB shot Andy "Turbo" Barnes who last year came very close to a maximum 200 in this fixture.
The scoring picks up with Scary slotting the top score of the day – a 49.7 blasting the centre out of the 3.3 inch V-bull. His crowing attracts the attention of the disapproving skipper.
"Some people without brains do an awful lot of talking," he says, slipping effortlessly into role. Disasters at the shorter range for King, a brace of Hortons, Joy and Houston make it a nervous time for the senior executives of the OFRC.
Yet an improved performance at 600 yards, notably from the chairman, cheered by a 49 and creditable 48s from Dorothy and the Munchkin and it rapidly becomes apparent that the wind has caused many greater problems for our opponents and that the OFs have triumphed.
And not only that, but the A team won by a clear 20 points from the second-placed team, Framlingham B!
"Ha!" said Dorothy. Turbo seeks to explain Bedford's dismal fifth place by claiming somewhat wildly that it was their D-Team. "How come you're in it then?" says Scary, clearly having located his brain at last.
Rusty wallet
The chairman is so impressed that he takes a key to the long rusted-up padlock on his wallet and buys champagne to fill the Trophy.
There was much hoorah as Fram have gone 2 and 1 this season and that lost by a single point – all Halahan's fault anyway.
The team's grovelling thanks went to Guy Larcombe.
"You people should consider yourselves lucky that I'm granting you an audience tomorrow instead of 20 years from now," said the Wizard of Biz as he draws the green curtain on another successful day
As usual the heartfelt thanks of the OFRC go to John "Wicked Witch of Hackney" Miller who gave up his Saturday to act as Range Control Officer.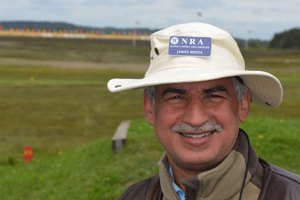 James Mehta
Scores were as follows:
All Day Scores 9th June 2012

Range:

300

600

900

1000

TOTALS

A Team

Mehta

49

7

46

4

46

2

43

2

184

15

Gemmill

47

3

48

7

48

6

43

2

186

18

Halahan

48

4

47

2

48

5

43

2

186

13

556

46

B Team

Burnip

44

2

49

5

47

6

43

1

183

14

Houston

43

3

46

4

48

1

43

3

180

11

Ford

46

3

41

2

48

2

38

0

173

7

536

32

Also shot:

Horton A

42

2

46

3

44

2

41

2

173

9

Horton J

41

1

44

3

45

2

38

1

168

7

Joy

43

2

42

2

42

2

41

1

168

7

King

35

3

45

4

46

4

42

2

168

13
Results:
Team

Total

Position

Alleynians

447.20

6

Bedford

530.37

5

Cranleigh

532.29

3

Fram A

556.44

1

Fram B

536.32

2

KCS Wimbledon

Lancing

Lawrentians

531.24

4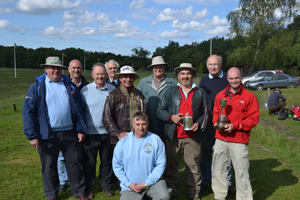 The all-day team: Burnip, Miller (Range officer), Houston, Joy, Mehta, King, Halahan, Horton J, Gemmill.<br>Kneeling – Larcombe, "The Wiz of Biz"