Here you can see the College's 1962 Ashburton team and regular readers of this column may recognise some of the characters, even if – 47 years later – the hair is greyer, the waist thicker and the eyesight not quite so sharp.

1962 Framlingham College Ashburton team.
L to R.
Back Row:
Nigel Burnip (S 58-65), Nigel King (S 60-65), Bob Le Rougetel (K 55-63)
Seated:
Keith Howard (R 55-63), Tony Hewitt-Hicks (G 59-63), Jon Ford (Captain) (S 58-62), David Argent (R 55-64), Ed Brown? ( G 54-62)
For comparison, the remains of the team at Bisley in 2009: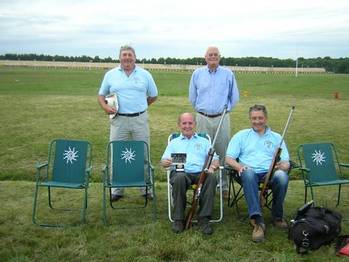 More of the progress of the old troopers in the full Bisley report. Where are the others?