THEY came from an era when gay men were no more than jolly bon viveurs, from when battles were won with little more than spunk and hideous injuries were borne with pluck and a nonchalant suck on a Woodbine.
It was as if it was a roll call after Rorke's Drift, such were the gaps in the parade of OF riflemen who shuffled under a blanket of melancholy to defend our hard-won crown as holders of the Q Match trophy.
"Burnip." Said 'RSM' Mehta, the most senior remaining staffer to mournful silence.
"Coker…"
"Cupper." "Sah!"
"Curtis." A grunt registers his presence.
"Halahan…"
"Horton A…."
"Horton, J…."
"McDowell… You're alive McDowell, I've seen you."
"Oh yes, sorry Jim, here."
And so on until we counted just seven of us, including El Presidente Smith.
Leaderless, we stared down 500 yards of Century range and swallowed dryly knowing that with the loss of our beloved leader Chairman Burnip to an unseasonal holiday (we suspect the hand of Mrs Chairman Burnip) and the absences of the 'Wild Bill' Halahan to the NRA team, 'Metronome' Walker to London and 'Rev' Horton to Suffolk, we could do nought but face the oncoming waves of Old Lawrentians, Wimbledons, Albanians et al alone.
With shaking, gloved fingers we huddled around the warmth of our last remaining match, quietly hummed the school song and mustered our dishevelled resources for the onslaught.
School Song
Our hearts pounded and brows beaded with perspiration as supper-dish pupils registered the phalanx of opposition shooters advancing relentlessly down the range. We nervously recounted our ammunition and toyed forlornly with our scorebooks as we could do nothing but wait for the inevitable in our sepiatone gloom.
Quietly, 'RSM' Mehta muttered words of encouragement to his men, "…..Right, this is the "A" team" – he said pointing to the two on the right, "And you're all crap so you're in the "B" team….." to the rest.
'St Bruno' King bravely tried to raise morale with spirited words: "Well, chaps, at least we can all have a go on my newly-acquired 1948 Yugoslavian Mauser 8mm." We smiled weakly, unconsciously grateful for the diversion, yet slyly rubbing the swelling contusions and numb arms from firing the brute during the morning practice.
Alamo Spirit
Meanwhile, summoning the spirit of the Alamo we watched first Peter Thompson, OL's veteran GB shot and then Chris Weedon, OL's not-so-veteran GB shot cheerfully coming down the range.
Taking our places mid range we went about our baleful business. Voluntering his services first, Steve 'Factor 30' McDowell was adrift on a sea of wild elevation and despite the brave and efficient windcalling of the RSM managed a feeble 45.2. 'Sorry Jim,' he utters, the scouring thirst of his terror stealing his voice, 'I'll just have to put them all in at 600.' The RSM's barely twitching moustache betrays his contempt.
Then Mehta dropped a couple low while McDowell, having swapped places, completely fails to get anywhere near the wind and winds him out for two more before a disastrous early season Magpie robs him of six points.
Coaching Incompetence
St Bruno chippers everyone up with a solid 46, firing so fast the wind has no chance to get hold of his bullets. 'Credit Crunch' Curtis and The Impostor gamely try to beat off McDowell's coaching incompetence but fail. The mood is low when Sandy Walker appears on the firing point.
"Erm" he says, relentless cheerfulness and faultless courtesy getting the better of him. "Apparently if I shoot here I can carry forward my 600 score, so would you mind awfully coaching me," says the Metronome, genuinely. McDowell almost ruins him too, but gaining confidence from a successful challenge and finally getting a handle on a pernicious, switching wind takes the pinpoint accuracy of the OF's youngest star to a 47.4. Horton does likewise. We are feeling better almost as if we have got away with it and beginning to clear the range when:
"Oi, McDowell, where are you going?" It is the demon Halahan, perspiring and beaming like a cat with a dairy intolerance finding himself in a bird sanctuary. He has speed-marched down the range, rifle slung over his shoulder like a Tommy Atkins cartoon.
Commonwealth Gold
He has been shooting all day for the NRA in the company of such lightweights as two-time Queen's Prize winner and Commonwealth gold medallist Glynn Barnett.
McDowell has found the wind but still loses one to a vicious gust. Halahan tuts, slots 49.4 and he is off, back up the range towards where the real people live.
Now we have found some Dunkirk spirit and at 600 yards the mood is rather more ebullient. The wind has calmed a bit and McDowell prepares to go down to the firing point. A searing flame of agony down the back of his neck as it comes into contact with the collar of his jacket reminds him he forgot to bring sun cream. Every year is the same.
Burned Idiot
Celtic flesh + first day of season excitement + sunny day = burned idiot.
Still, not wanting to move very much has its benefits and with additional stillness 'Lobsterchops' does indeed keep his promise to the stand-in skipper and puts them all in. Others follow suit with improved scores, but with the dying wind comes the risk of exposure to the talents of the OL stars. The nerves return. Where's Halahan?
"I've texted him," says the RSM.
"I called him twice," says McDowell.
"Did you see what his 600 was this morning?"
"49 I think," adds the man with the Man Utd face.
No need. Just as there is only one other person on the range and the unseasonal April sun is halfway to the horizon, so appears the great man.
"All right, already," says Halahan, displaying his Irish/Malaysian roots, "We've got six minutes to the hooter so I will shoot on both targets."
"Shooting shmooting"
And does he ever. In the greatest feat of shooting ever witnessed by this OF, he shoots on adjacent targets simultaneously, each sight movement a blur of reloading and taking aim making minor wind changes as they are called. He converts both sighters, one V and one 5.
Three minutes later the two targets are pushed up simultaneously showing the scores of his final two shots. Each has gone through the pinhole. 50.8.
"Cheers chaps," he says, scoops up his kit as the hooter blows to signify the end of shooting for the day and disappears again.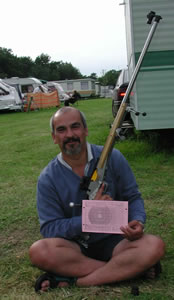 Halahan in smug mode
Those standing nearest the back of the range swore they heard him say:
'My work here is done.'
Retiring to the clubhouse for tea and medals we reflect that we have won the cup by five points from the visibly miffed OLs, which is just as well, because it is still in Nigel Burnip's kitchen.
Mostly due to Halahan's smartarsery, the day's medal was awarded to Nigel King. So there.
Q Match 26th April 2008
| | | | | |
| --- | --- | --- | --- | --- |
| Place |   | 500yds | 600yds |   |
| 1 | Framlingham A |   |   |   |
|   | John Halahan | 49.4 | 50.8 | 99.12 |
|   | Steve McDowell | 45.2 | 50.5 | 95.7 |
|   | Sandy Walker | 47.4 | 47.3 | 94.7 |
|   | Andrew Horton | 46.4 | 47.5 | 93.6 |
|   |   | 187.14 | 194.21 | 381.32 |
|   |   |   |   |   |
| 2 | Old Lawrentians | 186.13 | 190.10 | 376.31 |
| 3 | KCS Wimbledon | 185.16 | 183.10 | 368.26 |
| 4 | Cranleigh | 184.16 | 180.9 | 364.25 |
| 5 | Albanians | 179.8 | 182.12 | 361.2 |
| 6 | Alleynians | 177.8 | 183.8 | 360.16 |
| 7 | Lancing |   |   | 356.18 |
|   |   |   |   |   |
| 8 | Framlingham B |   |   |   |
|   | James Mehta | 44.3 | 46.2 | 90.5 |
|   | Nigel King | 46.2 | 44.0 | 90.2 |
|   | Robin Curtis | 44.2 | 45.2 | 89.4 |
|   | Jonathan Cupper | 43.1 | 42.2 | 85.3 |
|   |   | 177.8 | 177.6 | 354.14 |
|   |   |   |   |   |
|   | Also fired: |   |   |   |
|   | Brian Smith | 40.1 | 42.1 | 82.2 |