Fram used to engage the services of a dedicated expert shooting instructor in the era of record twice Queen's Medal winning Jack Meynell, so the OF Rifle Club with very generous support from the Society is doing its best to make good the difference.
John Halahan, Brian Smith, Nigel Burnip, and James Mehta, all products of an excellent Fram shooting education, kindly gave their time and experience in an intensive day of instruction and encouragement. Starting at the Zero Range, the students carefully adjusted the sights on their recently re-issued cadet target rifles, by noisily grouping on targets only seventy feet away.
Here, Kimberley Pope gets some personal tuition on the Zero range
Then out onto the 300 yard firing point, where the College students were soon adjusted into stable shooting positions, and the basics sorted out. Lunch was hosted by the OFs in the North London Rifle Club and coincided with the only shower in an otherwise dry but blustery day. After a short interval for refuelling it was off to the 500 yard point, where the potential for success was soon evident.
Three of the College team, Kimberley Pope, Jace Palmer, and Carl Witham, hope to compete in the Imperial Meeting in July, and the learning curve to participate in such a Blue Riband event is steep. But the enthusiasm and ability to absorb new skills of these young people is simply breath-taking, and they were soon into a polished routine and picking up more advanced techniques. Relative beginners Elliott Dunford and Leonie Mahon took advantage of the individual tuition and made great strides forward.
John Halahan keeps a watchful eye on tyro shooter Elliot Dunford
The College returned home tired but motivated, and we look forward to further opportunities later in the season. Thanks to all the OF Rifle Club members for giving up their time, and especially to the accompanying College staff, WO1 Roy Witham and Ana de luis Salas, for giving up their Sunday as well. Without their enthusiasm nothing would be possible.
Can Framlingham challenge for the Ashburton again? Maybe not this year, but at this rate it can't be long".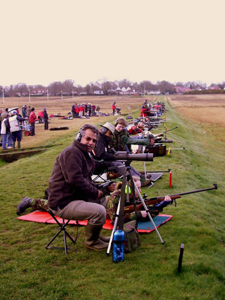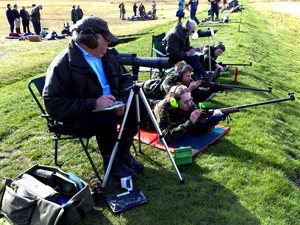 James Mehta (L) and Nigel Burnip & Brian Smith (R) coaching at 300 yds