The Q Match, Century Range, Bisley, 16 April, 2011
It was a plot worthy of a John Le Carre novel. Well, that combined with a Keystone Cops script and a bit of Inspector Clouseau thrown in. And a soupcon of The Beano.
It all began last year when Hon Sec "Forty Six" Mehta, in a spirit of hitherto unheard-of Old Fram generosity, invited the Bedfordians to join in on our happy annual veterans' charabanc.
Tragically though, and rather more commonly to alumni of Framlingham College, he hadn't done his homework.
The Bedfordians, armed with Robin Hatcher and Andy "Turbo" Barnes – both of them well known GB shots, proceeded to clean our clocks and scooped all three bits of silverware. The Q Match, the Long Range and the Lizard Cup, all of which had the names of Old Framlinghamians blazed across them for the previous three years.
Miffed. There were rumblings of discontent among the OF regulars. Add to the competition by all means and make it more fun, sure. The more the merrier – absolutely. But, keep it real.
Stiff Upper Lip
Still, being well schooled in the age-old Public School tradition of Stiff Upper Lip we shook hands, gratefully accepted the Bedfordians' beer and then quietly took the Hon Sec round the back of the day boys' loos and gave him a proper filling-in.
Not so the Old Laurentians, however. Quivering with indignation, despite not being even close to winning anything, they dusted off the ancient rule book and pointed out that these matches were devised in mists of Bisley time as being between those seven schools which each paid the £2 7s 4d to institute the competition in the first place. Inviting these insufferable yobbos who don't even have the decorum to prefix their team with the word 'Old' was beyond the pale, it was said.
So, like the cane, cold showers and margarine – the Bedfordians were reluctantly abolished.
There we were then, gathering at 500 yards after a relatively successful morning practice shoot, on an unseasonably sunny April day with determination in our eyes and chins jutted forward into the moderate uprange wind.
Stepping onto the firing point first up, despite the remaining moderate swelling in the right eye, Forty Six gets down and slots in a 48.4. A fine start – then John "Mrs Doubtfire" Halahan, leading from the front as skipper whacks in the first maximum of the season. Nigel "Bede" Burnip, showing what all that practice for the GB Veterans' team has given him, fires an effortless 49.4 and Steve "Mensa" McDowell, having forgotten to bring the relatively important shooting jacket, shoots a 48.5 in Mrs Doubtfire's (considerably smaller) jacket. Not bad given he had lost all feeling in his left hand by the time he gets up. Geoff "We have a problem" Houston celebrating rare appearances with a tremendous 48. A feat he was to repeat at the longer range.
Dark Looks
Not so at 600, where, hurried by return orders from the Home Office he gets dark looks from the Hon Sec coaching him by spraying it around the target for a shameful 44. Fearing he has cost the team dearly, he retreats up the A3 at speed in a cloud of diesel smoke.
Behind the fleeing fool, the OFs show their grit. Burnip hits a magnificent maximum and Halahan and Mehta showing only slivers off. We are 17 off.
Chas "New Bug" Lister shows that, having taken a brave leap and bought a rifle from Halahan puts in a terrific 97.7. Neil "Father of the House" Joy caps a disappointing 500 with a splendid 48 at 600. Robin "Huggies" Curtis takes time off from his burgeoning new family to stick in couple of creditable 46s while the top layer of College Governance – Brian "El Presidente" Smith and Jon "Biffo" Ford – also chip in.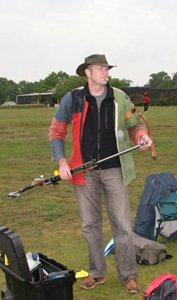 (McDowell – Trained Athlete)
It was enough. By one point. From the Old Lawrentians. Which isn't funny at all. No really. Honestly. Snigger. And so…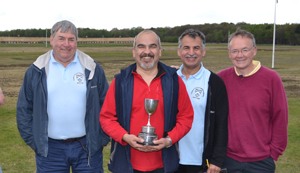 (Q Match Winners)
Long Range match. Stickledown range, 7 May, 2011.
No messing about this time. The most successful OF to have ever set foot on a firing range eases languidly into view, rifle over his shoulder. The very long shadow of Sandy "Supreme Being" Walker is to any shooting team captain a sight about as welcome as an ice cream van in the desert. Even "Mensa" McDowell has pulled himself together, remembered to bring his brain and for once packed everything he needs to shoot.
And just to show we really mean business, the skipper has wooed one of the best wind coaches on Bisley camp to come and show us how it is done. Our very great thanks go to Guy "The Master of the Elements" Larcombe who took the chair.
But first the Mighty Walker. The author hesitates to say that at 900 yards (which is a shade over half a mile) Sandy dropped three V-Bulls. Damn him.
Then James "Forty Six" Mehta – showing a welcome return to form comes off the firing point with a Cheshire Cat, or possible Cheshire Cheese smile. He is already tapping "Got a career best 50.9 at 900 yards. Yippee." into his Facebook site on his iPhone.
Larcombe guides Burnip to an unusual 46, while Halahan, consistent as ever, piles in with another 49. The big surprise, not least to himself, is McDowell putting in a maximum too, only one V-Bull behind the Master.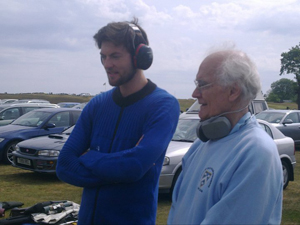 (Walker Joy)



Stanford-Tuck
We all seem to be nailing 900 yards. New Bug Lister with a very chunky 48, the welcome return of Bish Horton, 47, and the Air Commodore (Rtd) Ford shooting like Stanford-Tuck and belting in a terrific 48.
Father of the House Joy shows that age is no barrier to shooting at 900 yards, though it maybe something to do with the intriguing homemade eyewear, chips in with a 46.
El Presidente has forgotten his elevation – giving the coach a headache and the butt-markers a challenge but nonetheless entertains with a 40.
Nigel "OAP" King reappears, armed to the teeth, and puts in a creditable early-season 45, while the return of the ever-intriguing Ally "Wardrobe" Strachan, also show early season promise with a 45.
But, as is ever the case, it is only another 100 yards further back, but 1000 yards is a heartbreaker. Fickle winds combine with variable light and with the 155 grain bullet going subsonic at 940 yards, unpredictable trajectory.
Burnip is clearly miffed by his 900 performance and hammers in 49.6, jamming rounds up the chamber with grit and determination. The Mighty Walker a super 48.5 – McDowell a lucky 48 with 2 V-bulls, taking advantage of all the real estate of the two-foot bull. With Halahan only three off at the longer range the A team has dropped only 13 points. Which is good, spirits are high.
James "Forty Six" Mehta, sticking to his average sticks in an effortless 42. "Wasn't comfy" he mutters – oddly not reaching for the Facebook portal.
Will 'O the Wisp
Then the 1000 yard gremlins come flying in – unexplained outers, misses and dodgy elevation, leave sad and puzzled expressions on the faces of Lister, Horton, Joy and Strachan. One of the rifles is sent to Fulton's. There is nothing wrong with it. It is just the legendary Will 'o the Wisp that is 1000 yard shooting.
Only El Presidente Smith, ever unpredictable, dons his deerstalker and against the run puts in 44 with 3 Vs.
Fram A – unsurprisingly with scoring like that – wins by a clear six points from Lancing and by 11 from the Auld Enemy.
A beaming Halahan grips the second trophy of the season. One more to come. The All Day match on the 5th June at Bisley – all are welcome.
Our very greatest thanks are reserved, however, for John "McNab" Miller who has generously given his time to act as range officer for both matches. Good man, that McNab. Whoever he is.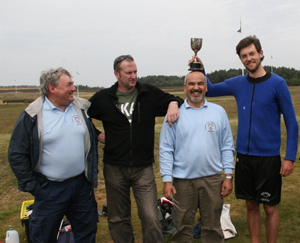 (Long Range Winners)
Q Match 16th April 2011

500 yds

600 yds

Halahan J

50

6

49

5

99

11

Burnip N

49

4

50

7

99

11

Mehta J

48

4

49

5

97

9

Houston G

48

5

48

3

96

8

McDowell TS

48

5

44

3

92

8

Lister C

48

4

49

3

97

7

Joy N

44

4

48

3

92

7

Curtis R

46

4

46

0

92

4

Smith B

40

0

42

3

82

3

Ford JAF

44

7

44

7

Old Framlinghamians

483

47

Lawrentians

482

43

Lancing Old Boys

476

39

Albanians

471

39

Kings School Wimbledon

470

41

Old Cranleighans

463

30

Old Alleynians

457

32
Long Range Match 7 May 2011

900

1000

A team

Sandy Walker

50

7

48

5

98

12

Steve Mcdowell

50

6

48

2

98

8

John Halahan

49

8

47

2

96

10

Nigel Burnip

46

3

49

6

95

9

195

24

192

15

387

39

B team

James Mehta

50

9

42

2

92

11

Chas Lister

48

6

37

0

85

6

Andrew Horton

47

6

42

0

89

6

Jon Ford

48

6

44

3

92

9

193

27

165

5

358

32

Neil Joy

46

4

34

2

80

6

Brian Smith

40

0

44

3

84

3

Nigel King

45

3

37

0

82

3

Ally Strachan

45

1

45

1

Fram A

387

39

Lancing

381

30

Cranleigh

373

33

Old Lawrentians A

366

31

Fram B

358

32

Old Lawrentians B

347

23

Old Albanians

338

17

KCS (team of 3)

271

20

Old Alleynians

Did not shoot