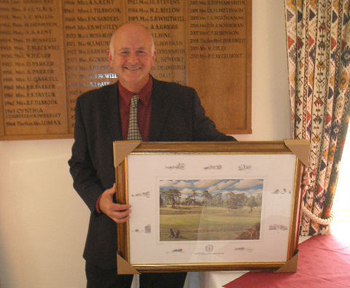 This year we had a slightly lower turn out of twenty one members, but it was encouraging to see seven who had not played last year. One of these was Andy Rose, a new member of the OFGS, who posted the best net score of the day and won the Captain's Prize, a fine print of the famous 5th hole at the host club, presented to him by Peter Howard-Dobson in son Alaistair's absence. Once again we had several of the Halford Hewitt team playing and one of those, Richard Graves, won the scratch cup for the second year running. In the afternoon he teamed up with Martin Lamb for nine holes foursomes and duly won with an excellent score of 23 points, 1 under bogey gross; he must have been inspired by his trip to the Masters! Martin also played exceptionally well.
The results were as follows:-
Captain's Prize Andy Rose 38 points
Minter Cup (Scratch) Richard Graves 30
2nd Div 1 Jonny Newton 36
1st Div 2 Peter Howard-Dobson 37
2nd Div 2 Norman Porter 34
PM Foursomes (9 holes)
1st Richard Graves & Martin Lamb 23
2nd Colin Bates & Norman Porter 21 acb
At the AGM, following the prize giving, Jonny Newton and Richard Graves were elected Captains of OFGS and OFGS First Team respectively; we wish them every success.
We look forward to returning to Royal Worlington in 2012.