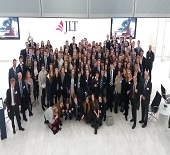 Jane Easey writes: The 2nd London Careers Network Event, Friday 9th December 2016.
On Friday 9th December students currently in Year 12 (6th form) at the College visited London for a day of careers-related experiences organsied by their Head of Careers, Catherine Cranmer. They attended a careers show at Excel in the morning followed by work placements with London-based parents and OFs in the afternoon. At the end of the day the students met with OFs at an informal drinks reception. This was kindly hosted by OF Richard Graves at the offices of JLT Re in the impressive and centrally located St. Botolph Building. The event was further supported by the generosity of the SOF and the College. See a group photograph here.
OFs, College staff and students mingled over drinks and nibbles and lots of career advice was on hand from a spread of generations. It was particularly good to see some very recent leavers this year – some working in London for the first time and others studying at University nearby. Thank you to all who supported this event and hopefully we will see this annual gathering supported by even more new faces next time.