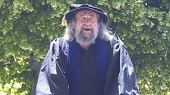 The Christchurch City Council recently terminated its contract with the Wizard of Christchurch, to take effect in December 2021. For more than 20 years OF Ian Brackenbury Channell (42-45) QSM has been on its payroll, the job expectation being that the wizard ''provide acts of wizardry for the city and other wizardry like services'' for at least one hour a day.
A retired Dunedin lawyer has now proposed that that Christchurch's loss should be Dunedin's gain. You can read the whole story by clicking here.
A full biography on Ian can be found in Distinguished section by clicking here.