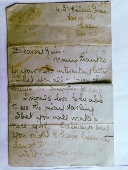 The College were contacted by Sarah Monaghan of Sompting Abbotts Preparatory School near Worthing in Sussex about a wartime letter belonging to an OF that has recently been unearthed after 80 years from beneath dormitory floorboards at their school.
The school has traced its owner across continents to Australia and revealed details about his family's past which was unknown. The OF was Donald James "Jim" Macbride (S40-43) who also attended the College with his brother David (S38-42). The letter has fascinated the pupils of Sompting Abbotts school and will be placed on display and used as a 'real' teaching resource, with a special relevance to them as it was written to a fellow pupil so many years ago.
We are grateful to Sarah for sharing this fascinating story with us which you can read in full here. As you will read he was a stalwart of the Melbourne OFs and he and his brother's names are on the Melbourne Sundial presented to the College in March 1983 and now located in a quiet area by the old headmaster's house – see picture here
The obituary for "Jim" Macbride in 2003 can be viewed here.