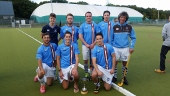 Huge congratulations to the OF team at the Haileybury 6s. They won overall with an amazing set of results throughout the tournament, scoring 22 goals and conceding just 2 over 6 matches.
The team comprised Sean Collins, Oliver Cutting, Josh Cutting (C), Andy Cutting, Ben Gowing, Tom Dunnett, Ben Wright, Luke Quartermaine (GK)
Read the full report and see photo here.