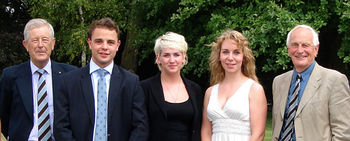 Reading from left to right, David Mason (President SOF) is shown with Ed Binder and Bethany Burgoyne. Next to Bethany is Hetta Rogers (P 94-99) who is Bethany's mentor and one of the selection panel and, last but not least, Norman Porter (Hon Sec SOF, Moreau selector and Mentor Abz Mackrill who won her scholarship in 2006). Sadly, John Ellerby, who is Ed Binder's mentor, could not be with us on the day, as his daughter was graduating from Edinburgh University. However, he and Ed managed to get together at the end of June, and so had already christened their mentoring relationship.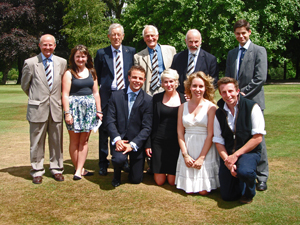 On such a sparkling and momentous day, it being Gwen Randall's last Speech Day, it was very good to be joined by various selectors and some previous winners of these Scholarships, including, from left to right:
Simon Dougherty (mentor to Rebecca Peck), Rebecca Peck (winner 2008), David Mason, Ed Binder, Bethany Burgoyne, Brian Smith (selector and past-President), Hetta Rogers, Robert Norman (winner 2007) and David Mallett (chairman of selectors).
Finally, Simon Dougherty took the opportunity to present Rebecca Peck with her second-year scholarship cheque for £800. He's shown here in the process of handing this over with, on their left, Peter Howard-Dobson (R 65-69) who, with invaluable input from fellow-trustees and a couple of Presidents, set up the Moreau Leaving Scholarships scheme back in 2005.