British Ski Academy director, Malcolm Erskine, commented: "He has all the right stuff to make it to the top, an athletic talent matched with the physical courage and the intellect to problem solve in a complex sport. Our coaches have no doubt that he can progress into the Great Britain squad – but this will only realistically happen with ten to fourteen weeks of winter ski race training".
The College is doing everything it can to help Tom, providing him with time off from school to compete, while ensuring that he keeps up with his schoolwork through correspondence and appropriate tutoring.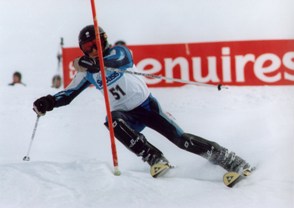 The other key component of all this, of course, is funding the training programme, something which is a constant challenge for Tom's father Stuart. The Maynard Educational Trust in Tom's home village of Hoxne, and the Ipswich-based Puffa Clothing Company have already provided some assistance, but if any OF has bright ideas or deep pockets Stuart would be extremely pleased to hear from you. Please click here to Email Stuart Jarrold.
Meanwhile, Tom's dream is to compete in the 2014 Olympics and he's staying focused on that. He's already demonstrated the sort of single-mindedness essential to achieve his objective, competing in spite of a broken thumb last season, and yet still achieving a high ranking.
We'll keep you posted on developments.