In the photo, I am one in from the right (with glasses) and I play the piano – although that is not entirely obvious from the photo!
I dreamt up this tour, largely because we have a house in Porthcurno and the whole thing struck me as a super opportunity for a holiday/jazz weekend, particularly since it involves the famous Minack Theatre – where, in 1955, I played three bit parts (including the Drunken Porter) in Macbeth!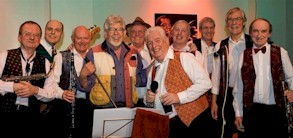 I am a retired engineer, and have never been a professional musician. Anyone attending the SOF centenary Ball will, however, remember that I, together with OF musicians Roger Last, Rob Goodale, Mike Maguire and Gerry Lee played in St. Paul's Court on that occasion.
The Rolf Harris connection is slightly serendipitous since Rolf lives locally and agreed to come and sing a couple of numbers at a Charity evening in January as a result of a chance conversation.
If any OF wants more details they can contact me on 01628 472163/07787 745971 or at charles.benson@talktalk.net