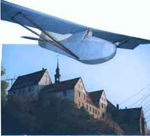 Followers of the website may recall an article, back in July 2008, about the Colditz Cock, and the part that Bill Goldfinch (26-32) played in the construction of this secret glider, which he and others built in a concealed attic of Colditz Castle.
A new film has been made, this time on location at Colditz Castle, following the reconstruction of the glider from the original plans and materials, culminating in a flight attempt using the method planned by Bill and his fellow prisoners – but will it work?
The programme, "Escape From Colditz", goes out tonight (13th August 2012) at 9.00pm, but it should be available on 4oD for a while afterwards. You can read about it the programme Here.