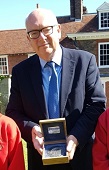 Terry was the first recipient of the Suffolk Medal which has been created as the most prestigious accolade that can be made to an individual in the county of Suffolk. "Suffolk's own Nobel Prize".
Terry Hunt was editor of the East Anglian Daily Times for more than 20 years until he retired in September 2017 and is now involved in many local organisations.
Click here to read the full article on Terry, with thanks to the EADT.