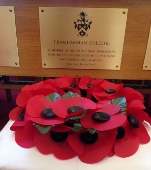 SOF Past Presidents Norman Porter and Chris Essex accompanied by the College Chaplain Rev Brynn Bayman and Lt Colonel Myers-Allen held a service on Sunday 21st May 2017 in St George's Memorial Church, Ypres, Belgium.
The service included the unveiling of a plaque installed in memory of the 150 former Students, Masters and Staff who gave up their lives in the Great War. St George's Memorial Church is decorated with memorials in honour of those who gave their lives for our freedom. Thanks to the generous benefaction from the SOF Trustees, it was possible to add Framlingham College to the Memorial Chapel.
The brief service was conducted by the College Chaplain and Lt Colonel Myers-Allen laid a wreath. As part of the service Mr Norman Porter also paid tribute to the fallen with a recital of former master Alfred Victor Radcliff's fitting poem – Optimism. Alfred Radcliff was one of those who died during WW1. Chris Essex read Psalms 23. The service was supported by the local parish priest who spoke admirably of the dedication of the SOF's and the College in remembering those you gave up their yesterdays for our todays. In the words of Alfred Radcliff – "For tiny hopes like tiny flowers of Spring, Will come, though death and ruin hold the land".
Click here to see a number of photos.