We were pleased to welcome an old member making a re-appearance after an absence of ten years or so. David Gower (Rendlesham, 53-58) made the journey from Royston in Hertfordshire, and cracked in some creditable scores, showing that the passage of time cannot tarnish the excellent shooting education that Fram provides.
The practice session went stunningly well: the rain held off, and still conditions with a flat light led to excellent scoring. Early obstacles were overcome once Nigel King had found his pipe. The Captain, Nigel "Bullets" Burnip, led by example with a Highest Possible Score of 50, with 5 "V" bulls. Other members weighed in with scores in the high forties, and so with the zero settings of the rifles carefully recorded, the squad retired to the London & Middlesex Rifle Clubhouse for lunch, and to consider tactics and team selection for the afternoon's encounter. Victory seemed inevitable.
OFRC members contemplate the trophy for the Silly Hat Match
Sadly it was not to be: a fresh to moderate wind blew up, fiendishly fishtailing from the left. Even more disastrously, the OF's had only been allocated one target instead of the two requested. Was this a cunning Lawrentian plan to clip the wings of the OFRC hotshots? Shooters had to hurry, and Jason Michelow imitated a machine-gun, having to fire off his course of twelve rounds in only seven minutes at 500 yards. In spite of some good scores by our team in these testing conditions, we failed in our bid for glory, the trophy being won by Cranleigh.
| | |
| --- | --- |
| Old Cranleighians | 466.37 |
| Old Lawrentians | 465.35 |
| Lancing Old Boys | 460.29 |
| KCS Wimbledon | 454.34 |
| Old Framlinghamians | 452.24 |
| Old Alleynians | 418.22 |
| | | |
| --- | --- | --- |
| | 500yds | 600yds |
| Nigel Burnip | 47.3 | 48.4 |
| John Halahan | 46.3 | 43.1 |
| Andrew Horton | 44.2 | 47.2 |
| Steve McDowell | 44.3 | 46.3 |
| Mike Coker | 40.0 | 47.3 |
| | 221.11 | 231.13 |
Also shooting were: Jason Michelow, David Gower, Nigel King, John Horton, and James Mehta. The day's medal was awarded to Andrew Horton.
So not the start to our season that we had wanted. However, we look forward to our next fixture on Saturday 31st May. This will be a Long Range match, starting at 1.00pm at 900yards on Stickledown Range at Bisley. If you would like to attend, please contact the Hon Sec, James Mehta, on 01206 768004 or at honsec@creffieldlodge.co.uk as soon as possible.
Player Profile – Nigel King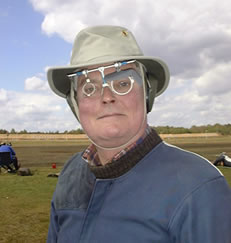 Nigel is pictured wearing this season's latest optical accessory
A regular stalwart of the OFRC is Nigel "Sailor" King, (Stradbroke 60-65). Nigel, a solicitor, acts as executive committee member and his advice is greatly valued by the Club.
Nigel is a fan of the shooting gizmo, and will enthusiastically demonstrate his latest find. Rarely costing less than an arm and several legs, these gadgets are guaranteed to be the answer to all shooter's prayers. Nigel is usually quite embarrassed to possess them, sportingly feeling that he has an unfair advantage over his colleagues, since he now, "Can't miss, Old Boy!"
Last season's gizmo rarely survives long enough to see the next. The Wonder German-engineered 3 Dioptre Magnifying Back-sight of 2002 led to an unexpected volley of shots, whilst directed at the target 900 yards away, being despatched in the general direction of Guildford. Later closer inspection revealed recent and serious structural weaknesses in the target marker board, several feet above the aiming mark.