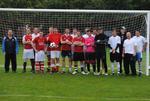 Making History – Team 'Suffolk' and 'Rest of the World' in 2011
From L-R: Clive Norton (Referee), Ben Vinten, Charlie Vinten, Chris Treacy, Peter Twentyman, Teddy Harrington, Ali Norman, Sam Williams, Seb Denby, Will Melrose, Harry Bell, Jonny Iseli, Dom Whitehouse, Josh Wilkinson, Alex Dunham, Bernard Dyer and Tom Osmanski.
For the second year running, both players and spectators alike are invited to the annual Old Framlinghamian Football Match. Representing the perennial clash between the SOF 'Suffolk' XI team and the SOF 'Rest of the World' XI, the two sides' preparations begin at 12 noon on September 1, at the College's wooden cricket pavilion. Here, teams and officials will meet for a light lunch, before heading down to Penny Farthings for some last-minute practice. Both footballs and tactics will be passed around the field for an hour, before a brief respite at 1.15pm, when spectators will join the newly invigorated players and officials at the wooden pavilion. Sports and schemes will then be replaced by coffee and conversation, as light refreshments are offered around to all. Soon afterwards, however, the real action begins. Spectators, officials, and players will all make their way to Penny Farthings, just in time for the 2pm kick off.
A full ninety minutes of fierce footballing will be played between the two sides. Should the score remain equal by the time the full-time whistle blows, the game will evolve into a penalty shootout – something that international football contests are not unused to, considering the eventualities of several of the final matches of Euro 2012. Whether this game will be quite so nail-biting, it is impossible to say. Rest assured, though: calm will be restored to both players and spectators after the match, when light refreshments will be on offer to all, once again, at the wooden pavilion. During this time, the 'Man of the Match' award(s) will also be presented, and the event will finally conclude at around 5.30pm.
All are welcome so please do not hesitate to let your football fever take over! Those infected are sure to enjoy an excellent day at the College – September 1, 2012.
To view a the event poster click here: