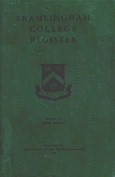 Update 11 Nov 2006 – In a tribute to Remembrance Day, Chis has substantially completed a section in the Distinguished OFs to "Those Who Made The Ultimate Sacrifice".
Update 31 Oct 2006 – Many thanks to everyone who offered a copy of the Green Book Register (and for pointing out that it is 1968 not 1967 – oops!). We still need feedback for potential names for inclusion in the Distinguished OFs – the list is growing, thanks to some fantastic research by Chris Essex.
Original News – 30 Sept 2006 Does anyone have a spare copy of the 1967 Green Book SOF Register? Chris Essex has joined the website team and is doing some fabulous research into Distinguished OFs
(Follow the link or go to "People" on the banner above and then select the "Distinguished OF" tab to see Chris' initial list). However, his research is hampered by lack of access to the 1967 Green Book Register.
If anyone has a spare copy to give or lend, and Chris says he will happily collect, then please email the Website Team..
There is a lot of work to do in searching out and researching Distinguished OFs, so if you can spare a bit of time to take on a project, then please email Chris Essex at the Website Team.