When form deserts the metronomically accurate Burnip, so our legend has it, the silverware slips from our grasp like the last vodka glass from the hand of the late Boris Yeltsin and so with it, our proud recent history.
But, just as the wings of the resident ravens are clipped to avoid testing the tale, the shooters of the OFRC pounced into action to rescue the hapless skipper. OFRC regained the Q Match trophy from Cranleigh.
In a scene as unlikely as Tony Blair winning a Most-Admired Post-War Prime Minister Award, even the OFRC's resident spin doctor (McDowell) couldn't turn public opinion away from the view that Burnip endured what all but the most objective Target Rifle commentator would call "an absolute stinker".
The skipper himself was not forthcoming with an explanation and given the only thunderous black cloud on a singularly unseasonally sunny day was the one circling his head, no-one dared seek one – least of all wind coach (Halahan) who was seen lurking for several hours in the trees behind the 600 yard firing point.
Still, it shows it can happen to the best of us and a couple of understudies were summoned from the concurrent county match to step in. Andrew "Reverend" Horton and Steve "Pull" McDowell, both shooting for Suffolk, were allowed to carry over their 600 yards scores.
Absolute Bull
This was lucky since, keen to impress, they dropped one point between them, McDowell hitting his first OFRC possible, even though they were all in the far right-hand side of the bull.
Horton, displaying great early season form, repeated his 49.4 at 500 yards for the day's top gun, though the medal, as the scores are handicapped, went to Jonathan "Doh!" Cupper whose 500 yard 48.5 included a 3-point magpie, reducing his possible possible to an ordinary probable. His disappointment was felt by all and his language heard in Sussex.
A bumper turnout may have been explained by the weather but with ten shooters to hand the fun, at least, was in the bag, even if adjutant McDowell had omitted to bring the one containing all the club kit.
John "Windmaster" Halahan and James "Spine of custard" Mehta blew out early season cobwebs at 500 yards to stick in splendid 49s at the longer range. Mehta manfully pushed his last shot over the top to ensure he didn't ruin his proud record of going without a maximum since 1977.
That meant even with the skipper floundering in unfamiliar territory the five-man OFRC team had dropped only 27 points with a high V-bull count.
But with international shooter Chris Weedon going down for the enemy (Old Laurentians) and at least one other tell-tale red and blue shoulder flash indicating a GB shot seen firing for Cranleigh, the holders, was it enough?
Going back to 600 yards in third place, we dropped only nine points between us to overhaul our close rivals by seven.
It was only this news, and several pints of London Pride, which restored Burnip to some kind of spiritual equilibrium.
Trebles all round
There was also creditable scoring on the undercard from John "31-inch" Horton, encouraging early season signs from Robin "Nicky Clarke" Curtis and a rare, if welcome, showing from Geoff "We Have a Problem" Houston.
Nigel "That'll do" King emerged on to the range with a newly acquired rifle barely out of the brown paper. Eschewing the weedy orthodoxy of zeroing the thing and taking the risky option of accepting advice from Halahan, he gleefully fired away. Though underperforming, it was an impressive feat of marksmanship that the people of Woking did not spend the first sunny weekend of 2007 hiding in their cellars.
The OFRC, just like Manchester United, are in with a shout of a treble.
Steve McDowell, 30 April 2007
Old Framlinghamians Rifle Club
Name
500yds
600yds
Total
Andrew Horton
49.4
49.4
98.8
Steve McDowell
47.3
50.4
97.7
Nigel Burnip
46.4
44.2
90.6
John Halahan
45.5
49.8
94.13
James Mehta
45.4
49.7
94.11
Team Total
232.20
241.25
473.45
Reserves:
John Horton
46.5
45.3
91.8
Robin Curtis
43.1
45.4
89.5
Jonathan Cupper
46.5
48.5
94.10
Geoff Houston
44.0
44.4
88.4
Nigel King
43.2
39.1
82.3
"Q" Match 2007
Team
500 yds
600 yds
Total
Pos'n
O. Framlinghamians
232.20
241.25
473.45
1
O. Cranleighans
233.11
234.11
467.22
2
O. Lawrentians
236.17
228.15
464.32
3
KCS O Bs
230.14
217.14
447.28
4
O. Alleynians
223.13
222.12
445.25
5
Lancing O Bs
214.12
226.10
440.22
6
O. Albanians
Incomplete team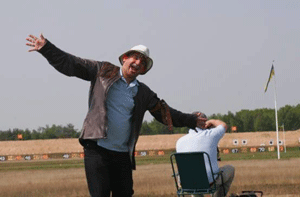 Therapy pays: Failing that, make like Wayne Rooney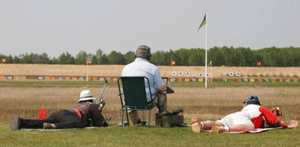 Mehta and Halahan bring up the rears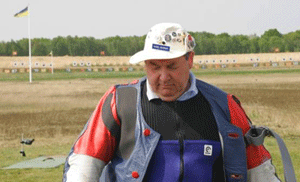 Loneliness of command: Burnip laments the loss of the team reading glasses