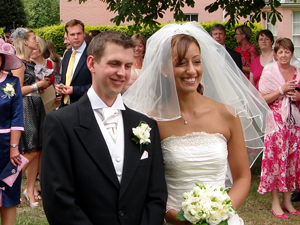 Mike works in London, while Noha (so wise) works near their home in Colchester, and hence the choice of the beautiful nearby village of Dedham for their wedding. Many family members and guests had come from much further afield, with a contingent from New Zealand, members of Noha's family from Egypt, and then a good number from Cornwall, who'd probably spent as long on the road as some of those travelling by air from distant continents!
The reception and wedding breakfast and, later on, a barbecue and some energetic dancing, took place in the gardens of the wonderful Le Talbooth restaurant. Some heavy rain, promised by the Met Office from the morning, was kind enough to hold-off pretty well until everyone was under cover and about to tuck-in to some excellent food and drink, so the photographer (and the rest of the party) had more than enough time to get some great shots.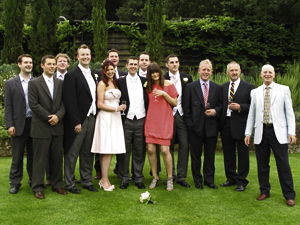 Mark Waters (R 88-98) was best man, while James Howard-Dobson (K 88-98) and Harry Mitchell (R 90-98), ably assisted by Noha's brother, Omar Mansour, were the ushers. The photograph on the left captures the complete OF contingent. From left to right: David Willcox (S94-99), Scott Cole (Z87-99), Ben Irving (Z88-99), Harry Mitchell (R90-98), Louisa Coker (M93-02), Chris Bagnall (R89-99), Michael Coker (granted temporary leave of absence by the official photographer), James Howard-Dobson (K88-98), Abigail Player (M91-02), Mark Waters (R88-98), Tom Nugent (Z88-99), Malcolm Todd (Hon OF) and Peter Howard-Dobson (R65-69 – who claims to have JUST climbed out of his wedding-kit before this was taken!).