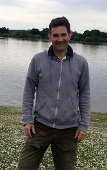 News from OF Tom Orford from the London Marathon at the weekend.
Tom, an OF K84-89 and parent of 3 children all currently at Framlingham College Prep School, ran the marathon on Sunday in under 5 hours for the Lymphoma Association. This is a charity Tom is keen to support as he had lymphoma back in 2013. The charity aims to help and support those affected by lymphatic cancer.
You can read more about his story in the article that appeared in the Ipswich Star.
Tom's fundraising page is: http://uk.virginmoneygiving.com/TomOrford
Well done Tom – would you do it again?