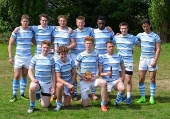 Nick Whitehead (K06-11) reports : On 7 May the OFs fielded a 12 man squad in the Greene King IPA 7s at Bury St Edmunds Rugby Club.
The event was attended by over 2,000 people and featured an 'elite' competition that included Northampton Saints, Worcester Warriors, England Development, Ireland Development, France Development and the Army first team.
The OFs played in the 'Open' and were grouped with the Royal Navy, Bulldogs Black and the Stunts.
The guys beat the Bulldogs and the Stunts but unfortunately were beaten by the Royal Navy's team which lead to the OFs not making the knockout stages on points difference; missing out by just 4 points.
The team had a great day out catching up and playing some decent rugby. A big thank you to Cam Greenhall for all his hard work pioneering and organising this event. If anyone is interested in playing in future OF 7s event please let Cam know and join our Facebook group (called OF 7s). The next event is Exeter 7s so likely to be a decent weekend away.
Here's a picture of the squad including the new OF rugby kit kindly funding by the SOF!