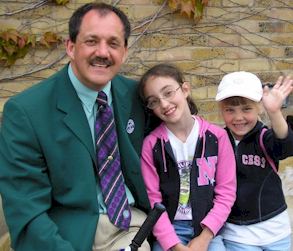 Stephen Mayhew writes:
"I have to thank the late 'Dibber' Hague for my post-Fram sporting activities both in hockey and tennis (though my mother had a tennis lesson whilst at Felixstowe Ladies College with Fred Perry and Dan Maskell at Felixstowe Lawn Tennis Club; she also played hockey with some success, so perhaps both sports are in the blood!). I was hoping to have written to him last summer as I had finally achieved a goal that I had set at Fram. Back in my Lower 6th days, I had managed to get into the College Tennis team which that year was to play in the Schools Cup (Youll Cup?) on the Courts of Wimbledon. Only 6 out of the 8 team members would go. As I was ranked 6th I expected to be selected. As you can guess, an Upper 6th student was picked above me. It has taken 30 years to put the disappointment behind me.
Last year I stood as a Linesman on the Gentlemans Singles Final on Centre Court at Wimbledon, Roger Federer -v- Andy Roddick. In fact one receives a letter from the All England Club 'inviting you to attend the Gentlemans Singles Final'- as if you would turn such a selection down! I had previously been selected for 3 out of 5 of the last Semi-Finals(Men) including Tim Henman's losses. I thought I had missed out in 2005 when I had only been selected for the Ladies Semi-Final. Selections for Semi-Finals are made based upon marks you are given for your performances throughout the Tournament. Before 2005 my grading had only allowed me to be considered upto the Semi-Final teams. For years I had watched as the 'Official Selection Letters' had been distributed for the Finals. So to finally receive one was beyond words.
On the day of the Mens Final, I reached Wimbledon before the crowds and sat on Henman Hill and watched the BBC preamble on the giant screen almost on my own. Once the gates opened, the crowds flooded in and with 30 minutes I was amongst 1000-1500 spectators who had simply come to watch the screen for the day as all the Centre Court tickets had been distributed months before. I remember sitting there thinking of a English Class with Bob Gillett in which he asked us to write down experiences you had to "have, see, or do". I remember some of those that were listed by my contemporaries – walking through virgin snow, watching a Tall Ship at sea, the smell of fresh summer rain, attending an FA Cup Final and going to a Wimbledon Final. I had been lucky enough to first watch a Final in 1985 which was won by Boris Becker; but now I could go one better and actually be on the court.
The Final traditionally starts at 2.00pm – boy does time go slowly. I skipped Sunday lunch (full roast) – I just didn't feel hungary. I was in the second team of linesmen for the Final and so we had to wait for our time slot to arrive and for the players to be at the Umpires chair for a change of ends. I had always regarded myself as fairly calm before sporting events – I think the last time I had been nervous was before the Junior 200 metres on Lords knowing I stood a chance as Nick Jacob wasn't running – and I won. My stomach was in knots when I had to walk the full length of the Court to be facing the Royal Box. Don't ask who was there – I did not look. The week before I had been able to look up during Andy Murray's match and see Sean Connery sitting directly in line with me. When I had made a close call against the Scot he had stood up and shaken his fist and a packed crowd had changed from cheers for an ace serve, to boos as I had called the ball out. I was right, the magic eye 'Hawkeye' used by the BBC agreed, and inwardly I smiled – what a great place to be.
Once I had made my first call, thankfully quite early, I relaxed. Our shift of 75 minutes could have lasted all-day. I was enjoying myself. Both players were at times only inches away it seemed; and you knew who was going to triumph just by watching their faces. A backhand from Federer flew into Row 20 – not a flicker of emotion. At the other end, Roddick tugged his shirt and adjusted his cap continuously. Unfortunately I missed the presentation of the famous trophy; but one can't be greedy – I will have to go back in 2006 and try again! As a bonus, I also stood on the Mens and Ladies Doubles Finals and the Mixed Final so I have only the Ladies Final left to complete my haul.
This year, 2006, will be my 17th at Wimbledon but I have to thank Mr. Hague for a day I will never forget.