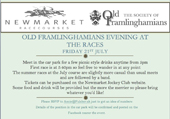 Young OF Annie Fulcher would like to invite any OFs who fancy a day at the races to meet her and others at Newmarket on Friday 21st of July from 5pm. The meeting point will be in the car park.
She says; "The first race is at 5:40pm so feel free to wander in at any point. The summer races at the July course are slightly more casual than usual meets and are often followed by a band. Tickets can be purchased on the Newmarket Jockey Club website. Some food and drink will be provided but the more the merrier so please bring whatever you'd like."
So that Annie has an idea of numbers and can let you know the exact meeting point please could you RSVP as soon as possible to annie@fulcher.uk
Further details about the event will also be posted on the Young OF Facebook page.