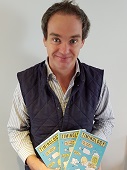 On 10 February 2007, OF Tim Leach (Z93-97) experienced a near fatal skiing accident in France, where he was doing a ski season. He broke his neck and back and hit his head so hard that he had to be placed in an induced coma for three weeks.
Since his accident, Tim – who had been planning to become a lawyer – has rebuilt his life with adventures along the way which have included launching a clothing brand and endeavouring to find love with the help of a PUA (pick up artist). Over the past ten years, he has discovered life tools which have made him happier today than he has ever been and he's now written a book called Timinology which is being published on March 12 (to coincide with Brain Awareness Week). Tim says: "I view my accident as a blessing in an extraordinary disguise."
The book can be pre ordered on Amazon here.