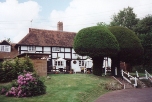 James Ruddock-Broyd (G 46-52) has resurrected the old South-East Supper after a gap of many years. This will take place at The Peacock Inn at Piltdown (northwest of Uckfield) on Saturday 28th October, at 7 for 7.30pm.
Dress code: a jacket and tie for the men. There are no particular instructions for ladies, who are always much brighter than chaps about such things.
This is a supper for OFs and guests – and wives, husbands, partners etc. will be most welcome.
For more information, and a link to The Peacock Inn's website, please see Events on the main menu. If you'd like an invitation form, please click here to Email James Ruddock-Broyd.