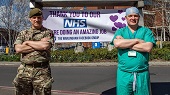 Lieutenant-Colonel Phill Moxey (R91-95) and Paul Moxey (S87-95) have crossed paths professionally for the first time
The twin brothers, one a senior army officer and the other a surgeon, have been brought together at the NHS Nightingale field hospital in London. One of the 42-year-old Suffolk-born men led a team building the 4,000-bed centre at the ExCel centre in London, while the other will help to save lives there.
Read the full story from The Daily Mail on 11 April 2020 by clicking here.
Phill has also been awarded an MBE and you can read his entry in our Distinguished OF section here.