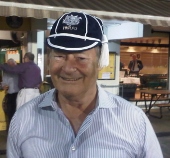 This took place last Thursday in glorious sunshine at Sandhurst and was attended by around 160. Click here to see front page of order of service.
Amongst those present were, from left to right, Rupert Chevenix-Trench, Chis Essex, Stewart Birt, Richard Sayer, Stephen Sayer and Ian Howard – see photo.
ORIGINAL STORY: As many of you will be aware, John Geoffrey Birt (S59-63) died in Bandkok, Thailand on 21 May 2016. His Thai friends gave him a Buddhist send off the following weekend on Koh Samui. John was a distiguished soldier, sportsman and businessman and was "our representative" in Thailand for many years. A memorial service will be held in the UK at the Royal Military Academy Chapel at Sandhurst for a service at Noon on Friday 30th September 2016, followed by a reception in the Indian Army Memorial Room.
For security reasons, we need to provide a list of all those who are likely to attend. If you would be interested in attending please email his brother Stewart to let him know, so that you can be put on the list.
John's brother Stewart has just sent me this link which features the house he built from recycled teak in Thailand. His Thai friends persuaded him to have the house blessed by the local Buddhist Monks and these photos were taken by the husband of one of his Koh Samui staff.