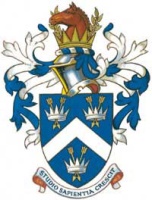 It is with great sadness that we announce the death of Laurie Rimmer, who died in a care home near Aldeburgh after a long illness. A former England rugby international, Laurie was Headmaster at the College from 1971-1989 and along with his late wife, Gillian, is remembered with great fondness by many Old Framlinghamians.
He died on 31 May, his 77th birthday, and leaves behind his 4 sons, Shane (Z76-81), Drummond (Z72-83), Daniel (Z74-85) and Arran (Z77-87). A Thanksgiving Service was held on Friday 15th at 11.00 am at Aldeburgh Parish Church. Donations, if desired, to RAF Benevolent Fund c/o Moore Bros, 5 Woodbridge Road, Framlingham IP13 9LL Tel. 01728 723448.

We would like to collect tributes to publish in the Yearbook, to do so please click on Post a Comment below or post a message on our Facebook page.