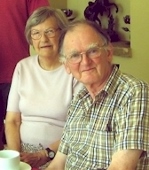 John James Maulden (G45-50) former pupil and master died on 2 July 2017. He had been in poor health for some time. He is picture here in 2006 with his late wife Glenys. His daughter Sonia has just advised us of the following arrangements.
In accordance with John's wishes, his funeral will be a cremation at 7 Hills Crematorium, Ipswich, at 10.30am on Monday 31st July. This will be principally for family, but close friends and colleagues will be welcome, particularly any who cannot attend the Service of Thanksgiving (Thursday 31st August, 2.30pm in the College Chapel). The funeral directors are Moore Brothers, of Framlingham (01728 723448). No flowers please, but if people would like to make a donation in John's memory, his preferred charities were East Anglian Air Ambulance and Cancer Research UK. These details will be in The East Anglian on 21st July.
Sonia has been enormously heartened by the number of messages she's received, from far and wide, expressing fondness and admiration for her father, and telling her stories about him. These will form part of the Service of Thanksgiving that will take place at the College Chapel at 2.30pm on 31st August, to which OFs, friends and colleagues will be hugely welcome and will be followed by refreshments in Paul's Court. Parking will be available at the front of College. Sonia would be very pleased to receive further stories and photographs by email to soniafrost@suffolkonline.net.