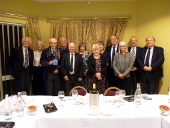 UPDATE : Colin Micklewright organised an excellent inaugural OF meeting in Cornwall at his lovely golf club. The Supper took place on 75th birthday of Clive Smith (S54-58) and 2 days before Colin's own 75th birthday. Click here for full report and pictures.
ORIGINAL INVITE : Two years ago in Exeter we held the inaugural SOF Devon & Cornwall dinner in Exeter organised by James Liell and Colin Micklewright. It was a very enjoyable evening meeting and this time Cornwall will be hosting on Friday 24th March 2017 at Lanhydrock Hotel and Golf Club. There will also be an opportunity to play golf at the venue as Colin is a member.
Three Course meal with choices and arrival drink is just £30 per head and all bookings must be made through Colin by 17 March at the latest. See Events Page for more details.