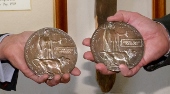 In June 2015, the College, SOF and the Flowerdew Family signed an agreement for the SOF to gift the original Flowerdew Death Penny to the Flowerdew family in return for the family gifting to the SOF a replica which the College will hold, keep safe and display in the College Chapel. The agreement also memorialises the ownership and the safe-keeping of the Flowerdew VC as well as that of the Death Penny.
In accordance with this agreement, the gifting of the original Death Penny in return for the replica took place at a short ceremony in the College Chapel on Tuesday 10 May 2016. The College was represented by Headmaster Paul Taylor and Finance Director Nick Chaplin, the Family by Neil Flowerdew, and the SOF by Richard Sayer, Immediate Past President of the SOF.
Photographs of the ceremony can be seen here.