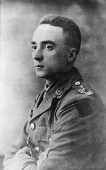 STONE LAYING CEREMONY – this took place on Tuesday 10 April 2018 at St Leonard's Church, by his ancestral home Billingford Hall. See a report and pictures by clicking here. A full set of photos taken on the day can be seen here and a EDP documentary here.
The BBC have also provided us with a copy of their documentary filmed just before the centenary on 30 March 2018 and features Neil Flowerdew (Hon OF). Click here to see
UPDATE from Major Al Wong, Second-in-Command, Lord Strathcona's Horse (Royal Canadians) writes "It has been quite a roller coaster ride. We executed the commemorations in Canada last week with celebrations in Edmonton, Ottawa, Kingston and Gagetown. They were a huge success. We received a lot of complements about the VC. A lot of our old guard wanted me to pass on thanks and appreciation to the SOF for allowing us to borrow the VC. I'm currently in France gearing up for the next piece. I will see you all in short order on the 10th of April. You can keep up to date with the latest news and video here https://www.facebook.com/Strathconas/ and itinerary in Canada by clicking here.
Richard Sayer (S56-61) reports : At Noon on 10 April 2018 the Flowerdew centenary stone will be laid in the churchyard of St Leonard's at Billingford, some 300 yards from Billingford Hall, where the 15 Flowerdew children, including Gordon, grew up in the late 19th century. St Leonard's is therefore "the Flowerdew Church" and memorials to the family are on the interior walls. Click here to read about the 10 Flowerdew boys who went to the College.
The event is organised by Sue Redgrave, a long time local resident and PCC member, with help from Ray Flowerdew who will be in charge of the displays. These will include material which the College will provide – photographs, old letters, the replica VC and Death Penny etc.
Lord Strathcona's Horse, Gordon's Canadian Regiment, will be represented, as will the College (although the date falls in the Easter school holidays); the Lord Lieutenant and High Sheriff of Norfolk, the local Mayor and Council will be present, as will local people, a number of the family, and we hope a good turn out of OFs. An indication of OF numbers would be very helpful for catering purposes.
Refreshments will be served after the formal stone-laying, for which a tent in the churchyard will offer protection.
BBC East are showing a short film about Flowerdew on Maundy Thursday, which will include shots of the College.