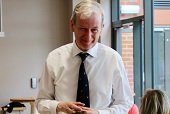 UPDATE: Whilst you can still view the funeral service online via the link below, we thought some members might like to read Mark Robinson's amazing eulogy. You can do so by clicking here.
ORIGINAL: Please click here a letter from Louise North which announces the death of Michael Cooke on 12 February 2021, a former master at Framlingham College, well known to many of us. He was elected an Hon OF in March 1994. He joined the College in 1974 and retired in 2018 after 43 years service to countless generations of OFs.
Messages of condolence can be sent to Michael's brother at Richard Cooke, The New House, The Moor, Reepham, Norwich NR10 4NL
The Service of Commemoration at 2pm on 4 March 2021 can be viewed by clicking here.