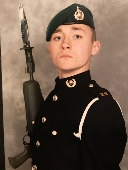 Congratulations to OF Will Brett (R12-16) who has completed his training to become a Marine and has been awarded an Academic Award at the Green Beret Ceremony for his application and knowledge of Military History and Tactics.
His Formal Passing Out Parade was on Friday 1st of December at CTCRM Lympstone and was quite a day! Will's father wrote, "It has been a very tough road for Will and we are beyond proud of what he has achieved. Along the way, he received a special award for outstanding achievement in the physical pass out tests".
Will is looking forward to serving with the Marines and has been posted to 40 Commando. Very well done Will Brett, this is an amazing achievement!