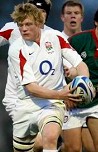 When we printed a story in Nov 2005 about the College having two great rugby 1st XV seasons in 2004 and 2005, John Birt asked if any of the players had been selected to play at a higher level. The answer is a resounding "yes!!".
James Hurlock R2001-06, son of Terry Hurlock R66-73, captained the 1stXV for two seasons (unbeaten in 2005), and perhaps the youngest ever captain at 16; but at 6ft 3″ and 15st 8lbs, he makes a formidable leader. While still at Fram, he was then selected to captain the England Under 18 squad and led them to victory in the European Trophy. James left Fram in July 2006 and is now training at the Saracens Academy. Watch this space to see if he can gain a full England cap.
See the full article on James in the Distinguished OFs or click on this link to see the pdf file.