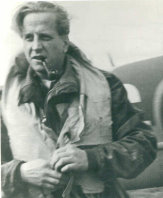 In early September we were contacted by the BBC in Leeds about a programme they were intending to do on Operation Jericho, the daring raid on Amiens jail during World War 2, led by Group Captain Percy Pickard DSO ** DFC (G26-32). With the help of Adrian Orchard (G72-79), who knows Pickard's nephew, we were able to provide considerable help to the programme, including the very humbling "in case of death" letter he wrote to Lord Londonderry.
I have just been advised that the programme will be aired this coming Sunday (23 October 2011) at 8pm on BBC2 and here is a link. The programme will be presented by the actor Martin Shaw.
To get fully up to speed on Pickard before the programme, read the full Distinguished piece on him by clicking here.