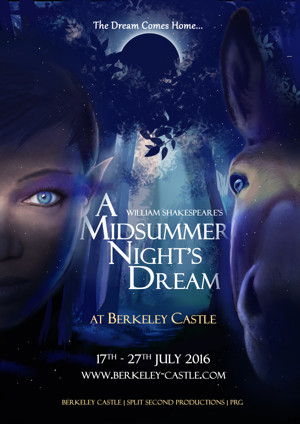 The 19th February 2016 marked the 420th anniversary of the wedding between Lord Thomas Berkeley and Elizabeth Carey at Berkeley Castle – the wedding for which William Shakespeare wrote and first performed one of the most successful plays in theatre history – A MIDSUMMER NIGHT'S DREAM. The London based company, Split Second Productions, will be returning to Berkeley Castle from 17th –27th July 2016 for what will be a history-making production of this play.
Set in the heart of a mythical forest surrounding Athens, four star-crossed lovers, a company of amateur actors and a fairy kingdom will collide to create one of the best-loved tales of falling in love – all in one night. But as we know, and as we are told; "The course of true love never did run smooth."
Producer Tom Berkeley holds very close familial ties to the project as he is a descendant of the very Berkeley family. Among the cast you will find students from the Guildford School of Acting including Alex Myers-Allen (R04-13), an undergraduate at the Guildford School of Acting, playing the part of Demetrius.
https://www.youtube.com/watch?v=lyJmbunN3CE
http://splitsecondproductions.blogspot.co.uk/
http://www.broadwayworld.com/uk-regional/article/A-MIDSUMMER-NIGHTS-DREAM-to-Return-to-Original-Home-at-Berkeley-Castle-This-Summer-20160219