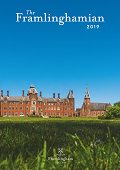 An on-line version of The 2019 Framlinghamian, produced with improved software, is now available here.
Simon Dougherty, SOF President writes: The College is planning to switch publication of The Framlinghamian from a printed magazine to an on-line version. This change is not absolute, as a printed copy will be available to those who request it, as before. However, in the interests of reducing costs, it is hoped that many OFs will opt for the on-line version from 2020.
Because each individual's default setting will remain a printed copy, it's vital that you make clear your preference for an on-line version if the anticipated savings are to be realised. To make your choice, please complete this form and return to me – by post to: President of the Society of Old Framlinghamians, c/o Framlingham College, Framlingham, Suffolk IP13 9EY – or send a scanned copy to me at President@oldframlinghamian.com. An early response would be much appreciated.