The Lion Trophy was instituted by Beloved Chairman "Tamerlane" Burnip who wishes the spread the message of Old Boys' Clubs shooting to a wider audience and invite any club to take part in our annual All-Day tournament.

That's the official party line, but in reality we are becoming a bit bored of smashing everyone up and we want to find someone who can come out to play properly, so we can become the greatest Rifle Team in the Vurld! Ahem.

Well, this is the message skipper John "Geobbels" Halahan wants put out after two years of presiding over feeble incompetence from his charges.
He conveniently forgets in fact that we won two of our four trophies this year by a single point. But more of that later.

Mentioned in Dispatches
Frantic activity in the preceding week on the discovery that two of our club rifles were completely shot out, the cause of the wayward shots at the Long Range shoot. A new barrel was fitted to one, and the other had a barrel swapped over from a less-utilised club rifle. Beloved Chairman "Ayrton" Burnip completed a six-hour round trip to Gloucestershire to collect them. Hon Sec Mehta had the unenviable task of "running-in" the new barrel on Saturday afternoon. This entails firing multiple rounds with frequent cleans to remove metallic fouling from the new rifling. And all in a hot and noisy Zero Range. And then the job of re-zeroing both rifles so the team can hit the target the following day…….

Muttley and the Fonz
The day began, as usual under the threat of spring rain, as 14 OFs gathered hopefully on the 300 yard firing point. It was delight to welcome four faces we have not seen since last year. "Shiver me Kimbers" Pope looking sharp from a long season of skippering the Edinburgh University rifle team, David "Muttley" Argent as usual appearing in the team only when there is a good chance of a medal and "Fonzie" Gemmill. And Tom "Mr X" Chapman. Well, we would have had Mr Chapman but he was still asleep in his scratcher in Cambridgeshire when the first round went down the range some 200 miles away.

The absent Burnip's sprit could be felt as his famous words rang in our ears. The very unforgiving 300 yard range can and regularly does cause horrors of epic proportions. This is because the target is rather small and a slight twitch in the wrong direction can cause not only a dropped shot, but Magpie 3s and even Outer 2s. Beloved Leader once thunderously reminded us, having dropped five, that "300 yards is for paedophiles".

Thus it was an intrigue that the only one who proved himself highly competent at 300 yards was the skipper who rattled in a 50.6…

The first of what was to turn out to be many maximums from the OF riflers that day. The rest of us made a good show of solid mediocrity, with an excellent 49.5 from "Fonzie" Gemmill. Archie Gemmill is a cool customer and probably possesses no central nervous system at all. "Put one underneath," he says wistfully.

Meanwhile, it seems the rest of the team has stepped in something lucky. Our normal 300 hoodoo has gone away and almost everyone scores respectably. Only poor John "Dartford Tunnel" Horton has a disaster with a cross-fire to leave him on 40. Still, we trudged back with our hats cocked on our heads as the rain held off and then the whole OFRC contingent really showed what a Mojo we had picked up.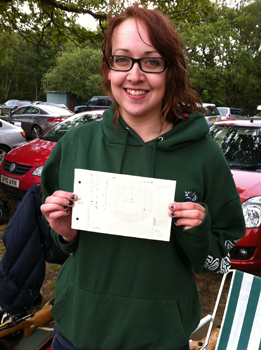 (Kim Pope with her stunning score.)
Spine of Custard
Geobbels begins with yet another maximum, this time with eight V-Bulls, Gemmill another 49, Argent yet another and James "Henman" Mehta wins the first and only Spine of Custard Award of the season. The "Custard" is award to a shooter who has fired the first nine shots into the bull leaving only the last for a glorious maximum. Nerves and lurking inevitability combine to produce a noon-high inner and great deal of derision and a large bar bill.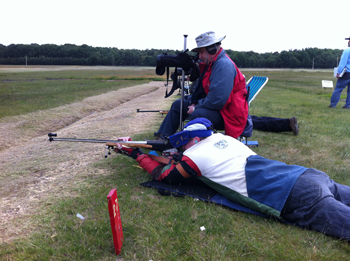 But it was here, with an increasingly twitchy Steve "B-team" McDowell in the coach's chair that our new star was born. Guiding Shivers gently through a mild but pernicious wind, the architecture student shows her knowledge of angles and puts in one of the tightest groups ever seen. McDowell, desperately nervous next to the ice cool Kim takes a slight eye off the wind and her ninth shot slips minutely over the line at 9-o clock for a plain old bull. The old hands all agree her club record equalling 50.9 is the best we have seen. "Sheer porno" mutters Geobbels looking at her score card.
McDowell drops one under the guidance of the elemental genius of coach Guy "Grasshopper" Larcombe. "I'm working really hard here, Steve," says The Master calmly, "and you stick it underneath, you twat."
(McDowell aims, carefully guided by wind-coach Larcombe.)

A look at the 600 yard scores will show a series of scores which are, by any measure impressive. The A team dropped only three points – a score which would not disgrace a solid county team – and the B team, only 13 between them.

John Horton a good 47, a remarkable 49.5 from the veteran Neil "Herr Leutnant" Joy, and a solid 47 again from Chas "Driller" Lister.

After lunch the rain clouds came and we gathered at the longer range at 900 yards. Heartbreak Hill can break the stoutest of spirits and with a hefty and pernicious wind, poor visibility and a lot of rain.

Yet "Geobbels" and "Fonzie" put in almost perfect scores, the nerveless "Shivers" a 48 and another 48 from "Custard" shows all is well and the OFs are firing well. "Muttley" keeps his class on show with another 49. "OAP" King continues to cheerfully put rounds down the range shrouded in a cloud of St Bruno smoke.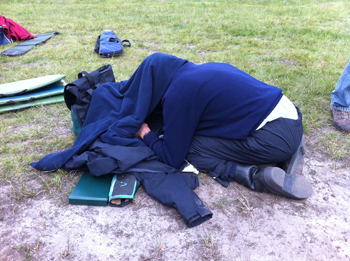 Officer class
Intelligence begins to reach us that the danger side, the Bedfordians, are scoring heavily. Ex-GB shot Robin Hatcher has converted a bull-5 sighter and then stuck the rest in the V-Bull. There is tension. Geobbels, being a former REME soldier is barking orders. Neil Joy calmly lets the rest of us know that he, in fact, was an officer in the REME during National Service. Halahan fixes him with a cold stare.

"Well, Hitler was a corporal so shut up and do as you're told, or your name will go on the list."
(Neil Joy works on his new shooting position.)

The weather comes in hard and poor Ally "Wardrobe" Strachan's run of poor luck continues as she fires through a rain cloud. Jon "Biffo" Ford carries on his solid class using the Chairman's rifle and despite his fighter pilot's eyesight the dreadful weather and advancing years conspire to unleash a grumpy but highly effective shoot. Realising his 1000-yard score card was in fact highly respectable, he cheers up. Robin "Huggies" Curtis, having waited patiently in the rain then gets the worst of the weather as he's got to lie down in it. Coach McDowell has to glare down a fogged up scope and the only way we can recognise the target is because it is the only one still up on the range.

Finally, our new star looks as if a she is about to put in yet another maximum, but at the extremely difficult 1000 yard range, she drops only one, even though McDowell the coach has given her the impression that she was dropping shots.

"You bastard", she says. "Just look at that scorecard and shut up, or you will also go on the list," chips in Halahan with a smile like a slightly stoned Cheshire Cat in front of a large bowl of gold top.

We have won the Lion by a single point, The All-Day Lizard Cup against the Old Lawrentians by more. Added to the Q Match and the Long Range – Halahan is entitled to his contentment.

As ever, our thanks go to John "McNab" Miller for giving up his time to be a flawless Range Conducting Officer.
(Halahan fills The Lion with celebratory champagne.)
All Day Match – 5th June 2011

300

600

900

1000

Total

A Team

John Halahan

50

6

50

8

50

7

48

5

198

26

Andrew Gemmill

49

5

49

8

50

8

46

5

194

26

Kim Pope

47

5

50

9

48

3

49

4

194

21

James Mehta

48

2

49

6

48

3

49

5

194

16

David Argent

48

5

49

5

49

7

46

3

192

20

242

23

247

36

245

28

238

22

972

109

ex 1000.200

B Team

Steve McDowell

47

1

49

6

48

3

47

2

191

12

Andrew Horton

47

5

45

3

46

4

49

5

187

17

Jon Ford

44

4

46

3

47

4

45

3

182

14

John Horton

40

1

47

4

45

4

44

2

176

11

Neil Joy

45

3

49

5

46

4

34

1

174

13

223

14

236

21

232

19

219

13

910

67

Also fired

Chas Lister

45

1

47

2

45

4

43

4

180

11

Robin Curtis

46

3

45

2

45

2

44

3

180

10

Nigel King

45

1

43

4

47

5

44

2

179

12

Ally Strachan

46

3

44

3

41

1

42

1

173

8

Results

Old Framlinghamian A

242

23

247

36

245

28

238

22

972

109

Bedfordians

241

26

245

23

247

33

238

22

971

104

Old Lawrentians

227

15

229

19

228

16

231

18

915

68

Cranleigh

911

63

Old Framlinghamian B

223

14

236

21

232

19

219

13

910

67

Lancing

218

11

229

16

223

19

232

19

902

65

Old Alleynians

832

45