There were ten of us, a little down on numbers, but at least John "Milk and Two Sugars" Halahan was with us for once bringing with him his increasing fame as a representative shooting, being as he has been selected to go on the NRA's tour of the Channel Islands. This maybe why he brought two rifles with him. One for each eye, presumably.
And as we gathered on the 900 yard firing point – yes folks, that's slightly over half a mile – we were delighted to welcome back in the fold Beloved Chairman Burnip, fresh from his holiday and brandishing a near pornographic scorecard of 50.9 from his morning match for the North London Rifle Club.
We start slightly late, largely because we are so busy congratulating ourselves on our stunning victory in the Q-Match. McDowell volunteers to go first trying to work out how to shoot while clapping himself on the back.  Coach Rev Horton did well to keep his head in the face of some dubious butt-marking and some inability from the competition to see the correct target number. Calmly challenging an out of group magpie, Horton is pleased to bring the good news to McDowell that having dropped his first he has slotted a pretty jammy 49 with only 4 V-bulls. Then, encountering elevation problems which dogged him all day until he discovered his sight block coming loose, he put in a highly unusual 46.0.
For once the Great Halahan has an off day – hoping to get it out of theway before he goes on the representative tour of the Channel Islands with the NRA captained by two-time Queen's Prize winner Glynn Barnett (did I mention that?). A mere 47.2 at 900 yards is close to a miss for John 'NRA representative Tour' Halahan.
Beloved Chairman, on sparkling form puts one over the top and effortlessly slots 49.7. "Kaboom!" King sticks in a quality 46 as does Hon Sec  James "Lovelace" Mehta who continues to mutter darkly about his 'head position' – whatever that might be.
Jonathan "Accessories" Cupper manages to sort out his ever increasing quantity of kit and fires in 47.2. His Excellency Generalissimo Presidente Smith takes a couple of extra sighters and joins the party with a 47.2. Robin "Curtains" Curtis seems determined to perform an impersonation of Ronnie O'Sullivan given how far away he is from his back-sight.
As usual, it's only another 100 yards, but it's a vital 100 yards. The wind, which on first sight appears to be dying faster than Doc Holliday in a tobacconists, in fact isn't and is being as mischievous as a WAG ina Bond Street shoe-shop.
So with McDowell and Halahan – who has reportedly been selected for an NRA tour to the Channel Islands – going first and coached by the ever vigilant Beloved Chairman, and both hitting 46, we find the wind is making two minute windchanges which, at that range translates into a lateral movement of the bullet several feet across the face of the target.
The pair coach on adjacent targets as Halahan, who has recently been coaching with the NRA representative side going to the Channel Islands, is calling his wind changes. McDowell, who is swallowing hard finding he has the awesome responsibility of coaching Beloved Chairman, is keeping a continuous vigil on the wind.
"Two and half left," says John.
But the mirage is boiling upward, giving away a telltale drop off in the wind.
"I'm on zero John."
"Nonsense. Two and a half minutes in that one, easy."
Poor Andrew Horton has a bad magpie out right. To McDowell's massive relief Burnip's is a bull at 9 o'clock.
"All right then, zero, " says Halahan, who is apparently on an NRA…••..
As we surmised Burnip is on fire and his 47.5 brings us home. We know we have won it, despite the presence of Chris Weedon for Old
Lawrentians. A quick walk up the range shows how far ahead we are. The A-team dropped 8 points at 900 and 16 at 1000. The big question though, is as results start to come in, we are slightly alarmed to discover that the B team appears to be coming second.
Finally, the last result, on a recount, reveals the B team has been beaten into third place by Cranleigh by one point, thus sparing the OFs an embarrassment of more back-slapping and smugness.
We all await the next instalment, on June 8, when the All-Day Match reveals whether or not we really are the double-treble super-duper winners of the lot. Again.
The medal for best shot of the day was awarded to Mr Accessories Cupper for making his A Team debut.
Thanks fans.
****Our best wishes (seriously) go to John Halahan who is currently on the National Rifle Association's tour of the Channel Islands. It is a national representative side captained by double Queen's Prize winner and Commonwealth Gold Medallist Glynn Barnett.  His progress can be followed at www.nra.org.uk
Long  Range 10th May 2008

Place

Bisley: Stickledown Range

900yds

1000yds

Total

 

 

 

 

 

1

Framlingham A

 

 

 

 

Nigel Burnip

49.7

47.5

96.12

 

Steve McDowell

49.4

46.2

95.6

 

John Halahan

47.2

46.3

93.5

 

Jonathan Cupper

47.2

45.1

92.3

 

 

192.15

184.11

376.26

 

 

 

 

 

2

Cranleigh

186.17

173.7

359.24

 

 

 

 

 

3

Framlingham B

 

 

 

 

Nigel King

46.4

44.3

90.7

 

Andrew Horton

46.0

44.2

90.2

 

James Mehta

46.2

43.3

89.5

 

John Horton

42.1

47.2

89.3

 

 

180.7

178.10

358.17

 

 

 

 

 

4

KCS Wimbledon

177.11

175.8

352.19

5

Lancing

170.10

173.8

343.18

6

Albanians

180.11

161.7

341.18

7

Old Lawrentians

179.6

161.9

340.15

8

Alleynians

172.8

157.7

329.15

 

 

 

 

 

 

Also fired:

 

 

 

 

Robin Curtis

40.3

39.1

79.4

 

Brian Smith

47.2

31.1

78.3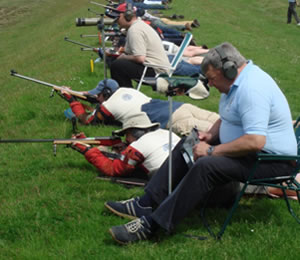 ]
Chairman Nigel Burnip coaches John Halahan to a distinctly average 47 at 900yds.