Dark skies and darker words – the OFRC shoots for the sky
Q Match 14 April, 2012: Century Range, Bisley.
"A bad workman, McDowell" bellowed some forgotten and begowned Framlingham martinet more than a quarter of a century ago, "Will always blame his tools."
"But, sir," says the recalcitrant youth, immediately quoting one of his cricketing heroes (the legendary Middlesex potty-mouth John Emburey), "The f*****g f*****'s f*****g f****d!"
Yet, despite the highly unpleasant and somewhat vivid repercussions of that statement, McDowell has never really learned to juxtapose poor performance with his own culpability, rather than malfunctioning kit.
Revered skipper, John Halahan.
Naturally, then, when the OFRC's rain-sodden opening match is lost by a single point in a Monsoon of Incompetence, it is naturally everyone else's fault and not that of the revered skipper, Halahan.
The mid-April Q Match is always eagerly awaited by OFRC riflemen who have endured a winter with nothing more than a 12-bore popgun for cordite therapy.
And having reclaimed the Q trophy last year after 2010's bungling, the 11 gathered shooters were excitable and representative of our pool of brains, talent, experience and all-round superduperness.
Kicking off late and short of butt markers with the weather rapidly turning against them the opening shots of the match were uncharacteristically nervous.
Even the mighty Burnip, who has wintered touring Australia with the GB Veterans team, was heard with sub-Tectonic rumbling in a tone just above the lower level for the human ear and deeply in context with the dark hue of the sky.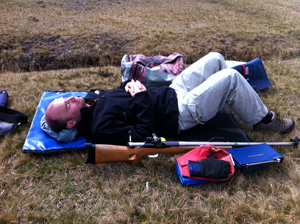 Andy, "Mad-Arch" Gemmill.
Rare and welcome appearances were noted from the master left-hander Andy "Mad Arch" Gemmill and the experiences of David Argent. Mind you, the OFRC may well look forward to another appearance from "Muttley" Argent, given his proclivity for arriving only when there is the likelihood of a medal…
Horton A, Horton J, Lister C and King N all apparently enjoyed themselves despite the catalogue of incompetence.
Indeed, at one stage Nigel King is heard to betray the Classical part of his Framlingham education (must have been in the Old Day,s all we did was woodwork, Ed) by quoting the late, great Terry-Thomas: "They're not even a shower – just a drizzle."
However, back to the action – moderate scoring was seen at 500 yards and Generalissimo Halahan writing this off to early season cobwebs, the motley team shamble back to 600 yards and thus began an hour long radio conversation with the butts.
The difference from 500 yards to 600 yards is in fact only a larger bullseye, which requires the butts to paste the larger bull in the centre of the 500 yards face. But only if they've actually got some.
Cue a bout of invective as impressive as that of the great Emburey above, followed by a meek shuffle to the other teams to agree to fire on 500 yards faces from 600 yards.
Despite some impressive scoring, not least from the Great Man himself and from Archie, a four-point 500 advantage from the Cranleigh A team proved unassailable and Cranleigh were delighted to lift some silverware for the first time in many a year.
Thus, the revered skipper pronounced, no doubt quothing from his expensive knowledge of legendary generals Sun Tzu, George Marshall and Bernard Montgomery.
"You're all crap, I hate you and you're fired. So there."
Q Match: 14th April 2012

500 yds

600 yds

Total

A Team

Halahan

48

3

48

5

96

8

Burnip

47

5

45

3

92

8

Gemmill

48

4

47

5

95

9

Argent

48

3

45

2

93

5

Totals:

191

15

185

15

376

30

B Team

Mehta

47

4

42

2

89

6

Ford

45

3

45

4

90

7

Horton A

46

3

46

3

92

6

Joy

44

3

43

2

87

5

Totals:

182

13

176

11

358

24

Also shooting:

King

42

1

41

2

83

3

Horton J

45

3

43

2

88

5

Lister

44

4

43

1

87

5
"Come in Cow's Arse… This is Banjo… Send location. Over…."
Long Range Match, 28 April, 2012: Stickledown Range, Bisley.
And so, as if to prove that the OFRC had mustered its tools and clustered its courage, McDowell arrives hotfoot on the range with minutes to spare and proceeds to put rounds down at both ranges without hitting very much.
"Why are you using a club rifle, you lanky buffoon?" inquires Halahan – legendary patience already wearing thin as he glares down from the coach's chair.
"I'm sorry John, but I've been on the Pirbright Range since 0600 helping a friend with a charity event and my rifle has been submitted to a gunsmith to fit a new barrel, and I haven't fired this gun in eight years, jibber, jibber…"
"You've gone V,3,V,3. Get out of my sight."
Not hard, given the skipper's encroaching Presbyopia, – you just sort of roll away, hide downwind and keep quiet for a minute.
However, order was restored by one of the OFRC veterans – the deadly former Buccaneer pilot, Air Commodore Jon Ford.
"Now then, chaps," his compelling and level tone cutting through the wind and the whingeing as he effortlessly reverts to senior staff officer mode, "Check your zeroes, adopt your correct position, dry fire, then firm trigger pressure and aimed shots. Lots of concentration. Get those rounds down in a controlled fashion. OK? Any questions? Jolly good. Then orf you go and good luck. Give 'em Hell."
Which is exactly what he does. Pressing the Reheat button on his personal Mojo, the 68-year-old self-confessed part-time piss-poor golfer sends down an awesome burst of fire so accurate that targets, more than half a mile away, acquire almost a single hole.
Halahan has gone uncharacteristically silent and concentrates on reading a vicious crosswind. Discombobulated at 1000 yards, he equally uncharacteristically drops four.
Coach Guy "Obersturmbannfuhrer" Larcombe, flipping between deep depression and rapturous joy, is worried that he is heading towards a diagnosis of Schizophrenia – but is reassured when the rest of us let him know this is a basic entry requirement for the OFRC.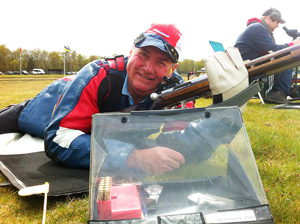 "Beloved Chairman", Nigel Burnip.
Ford's mastery has also given the Beloved Chairman a burst of energy, with a 900 yards 50.7 – the first maximum of the OFRC season – and James "HonSec (Hons)" – between bouts of complaining about his own barrel – has deployed the HubbleScope (TM) he uses as a fore-sight to its best effect and stuck in a magnificent 97.10 ex 100.20.
Yet though our band is indeed little, we find that the dreadful weather has affected the other teams too and it seems we are settled on teams of three firers. Steve 'Hapless' McDowell and Chas 'Imposter' Lister failed to make even the B Team for the first time in their memories, McDowell vigorously whining about… well, just whining.
Neil "Rupert" Joy shoots beautifully despite the child-frightening effect of large raindrops on his (homemade) high-dioptre eyewear and Nigel "Vorsprung" King, deploying whatever ingenuity at his disposal, finds some consistency and brings home the B-Team with a highly creditable 93.7.
We win from ten other teams by eight points and the hitherto sullen John "Show me a good loser and I'll show you a Loser" Halahan is incomparable in the sheer obnoxiousness of his victory.
Fram A first, Fram B fourth with Old Lawrentians and Cranleigh sandwiched in the middle.
Just how it should be.
Long Range Match Results

28th April 2012

Team A




900

V

1000

V

Total

John Ford

49

6

48

5

97

11

James Mehta

48

3

49

7

97

10

Nigel Burnip

50

7

45

4

95

11




147

16

142

16

289

Team A won

Team B




900

V

1000

V

Total

John Halahan

48

5

46

1

94

6

Neil Joy

49

4

43

4

92

8

Nigel King

46

4

47

3

93

7




143

13

136

8

279

Team B came 4th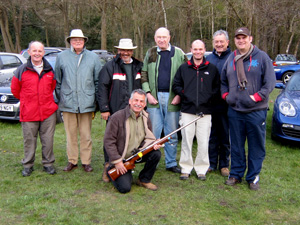 Jon Ford, Nigel King, John Halahan, John Horton, Andrew Gemmill, David Argent, Andrew Horton. James Mehta kneeling in homage!