Sometimes things just go according to plan. D-Day, for example, or the Renaissance.
In fact it was with a whiff of renaissance that the OF Rifle Club redeemed what was threatening to become a downbeat season.
For with jutting-jawed determination it was the skipper John 'Bill Gates' Halahan who managed to pull numerous rabbits from more than one hat and pull off a crushing victory for the OFs again the Old Lawrentians in the All Day Lizard Cup competition.
We could tell he meant it, because he had been dipping into the transfer market.
And so it was that we welcomed a rare OF appearance from the supremely talented Andy 'Shane' Gemmill who slotted into a serious-strength side also containing Tom 'Queens' Chapman and a rapidly improving Andrew "Slimfast" Horton. It was also welcome to see Jon "Guv'nor" Ford hoving into view.

Disappointed
Saturday, originally designed to be the club championship, became a practice session because of a lack of turnout. This disappointed both the Hon Sec James "Just going out for a pint of milk dear" Mehta who had very few playmates and Horton Jr who scored a massive 75.11 at 600 yards to absolutely no practical use whatsoever.
Still, on Sunday, bright and early on a morning which was covered with skies more gloomy than Gordon Brown's smile a bunch of OF shooters cheerfully gathered at 900 yards.
This included the welcome sight of a team from the College with team captain Kimberly Pope bravely taking time out from her A level studies to lead her troops in a pre-Ashburton practice.
Steve "Random" McDowell took the coaches chair and managed to keep Beloved Chairman Burnip in the zone on a surprisingly windless shoot to put him in with a fearsome 49.6.
As it turned out this was merely the beginning as a surprisingly nervous Halahan began to relax a little as he put it a highly creditable 48.5 and was then followed with first Chapman with 50.6, then Horton A, still refusing to drop a shot with a 50.4 and then the Beanpole Buffoon McDowell, as ever as consistent as a jellyfish in a liquidiser lying down and getting up again with a club record equalling 50.9 at 900 yards. Naturally, within 30 seconds everyone within 30 miles of Bisley know about this.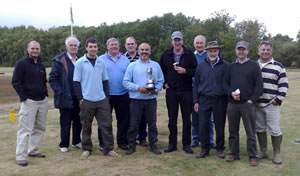 Left to Right:
Gemmil, Joy, Chapman, Burnip, Horton A, Halahan, McDowell, Horton J, Smith, Curtis, Mehta
Stringy Fool
Despite requiring a larger than normal number of sighters at 1000 yards due to the total loss of his wind zero, the stringy fool nearly repeated the feat at the longer distance – often referred to as the heartbreaker. Still thoroughly pleased with himself he stuck in a 48.5 to score a huge 98.14 ex 100.20. Geddin.
Halahan is beaming from ear to ear. At long range the A team has dropped just 24 points from 500. Surely the Lizard is in the bag. Meanwhile Beloved Chairman is not having the best day. With the odd misfire to spoil his concentration and the chairman's famous 'long range' gun not liking long range very much, his ejected rounds are flying out of the rifle almost as fast as the sharp bits coming out of the front end.

Then, in reverse Empire as it is known for some reason, we go from 1000 yards to 300, which might sound still a long way but you look as if you can reach out and stab that target after the longer range. But this is an illusion because 300 yards is treacherous. With almost no room for error it is a terrible leveller. We are relieved therefore that there are no disasters – though the chairman might disagree.

Large boil
Perhaps because we now know the Lizard Cup is ours 600 yards – not normally a range which we struggle with – we all did. Except Smartarse Horton, who, shooting straight all weekend, nicked the top shot of the day away from McDowell with a fine 48.
With a sense of relief akin to having a large suppurating boil lanced Halahan awarded the Lizard Trophy to himself.
We await the Veterans Match at Bisley on 16 July with a keen sense of anticipation. Well, Nigel Burnip does anyway.
Match -v- Old Lawrentians

300

600

900

1000

John Halahan

48

4

46

4

48

5

46

3

188

16

Steve McDowell

48

5

44

2

50

9

48

5

190

21

Tom Chapman

49

6

42

1

50

6

47

5

188

18

Andrew Horton

49

5

48

5

50

4

44

2

191

16

Andy Gemmil

47

4

46

2

48

4

45

1

186

11

totals

241

24

226

14

246

28

230

16

943

82

OL's

835

34
| | | | | | | | | | | | | |
| --- | --- | --- | --- | --- | --- | --- | --- | --- | --- | --- | --- | --- |
| Match -v- College | | | | | | | | | | | | |
| College | | | | | | | | | | | 402 | 17 |
| OFRC | | | | | | | | | | | 467 | 38 |
Other scores

300

600

900

1000

Jon Ford

47

3

DNF

46

3

44

1

137

7

James Mehta

42

2

48

4

47

4

DNF

137

10

Neil Joy

42

0

47

4

43

3

132

7

Brian Smith

41

1

42

2

43

3

DNF

126

6

John Horton

37

0

47

4

46

3

40

1

170

8

Robin Curtis

43

3

43

3

43

5

44

2

173

13