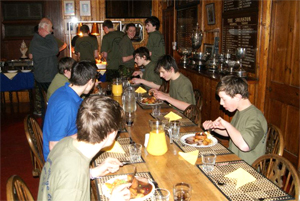 Having presented the cadets with a (dry) team t-shirt, the OFs laid on a sumptuous carvery lunch in the North London Rifle Clubhouse, where the shivering teenagers restored their flagging spirits with massive platefuls of roast beef with all the trimmings, followed by crumble and custard.
(Nothing improves the spirits more than dry clothes and a hot meal!)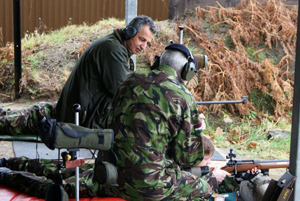 So miserable was the weather that the afternoon shoot at 500 yards was abandoned when it threatened to snow.
(James Mehta and Roy Witham help Seb Treacy to zero his sights)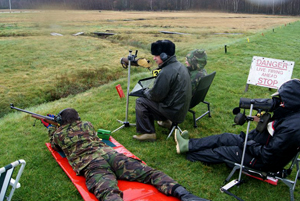 But a great day was had by all. Thanks to all the OF Rifle Club members who gave up their time to their younger brethren: Nigel Burnip, Jon Ford, Brian Smith, John Halahan, James Mehta and Kimberley Pope.
(Will Getting shoots while Emma Vidler and a couple of other damp individuals look on)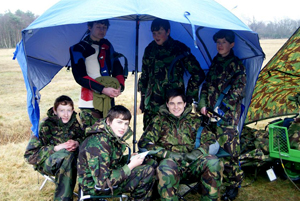 (Damp but undaunted – L to R: Charlie Green, Seb Treacy, Oli King, Jonathan Watt, Jimmy Huston, and Jack le Compte)